This is a surprising little transmitter. The Jumper T8SG Plus is a compact, multi-protocol radio tailored for FPV pilots. While it's not the cheapest transmitter on the market, it's certainly a huge leap forward in terms of quality and flexibility. The multi-protocol module lets you fly most toy quads as well as hobby-grade FPV racers. The hall sensor gimbals offer precise control and the OLED display is bright and contrasty. It's arguably the most compact hobby grade transmitter on the market.
Features
Hall sensor gimbals
2.4ghz Multi-Protocol Support
128x64, 2.42in OLED display
Up to 12 channels
Vibration and Beeper
Compact design
Removable antenna
Module bay
Carrying case and lanyard
Build Quality
The T8SG Plus features a bright yellow case with black accents. The plastic has a slight matte finish and seems to be of decent quality. The gimbals are slightly loose out of the box, but have a good feel to them. Compared to the original T8SG they have less of a dampened feeling and a bit louder spring release, but not as loud as the QX7 hall sensors. The quality is comparable to the stock QX7 gimbals but in a much smaller form-factor.
The switches are an upgrade over the original T8SG and match the quality of the Spektrum DX6 and Taranis QX7 switches. The trim switches were an issue on the original T8SG. They wiggled quite a bit and felt very cheap. The new trim switches have absolutely no wiggle while even my QX7 and DX6 have a tiny bit of wiggle. The menu buttons do have a little wiggle and the click is loud, but they function well. The power button doesn't protrude as much as the menu buttons, but has a very similar quality. This has much less of a toy feeling than the original T8SG.
Deviation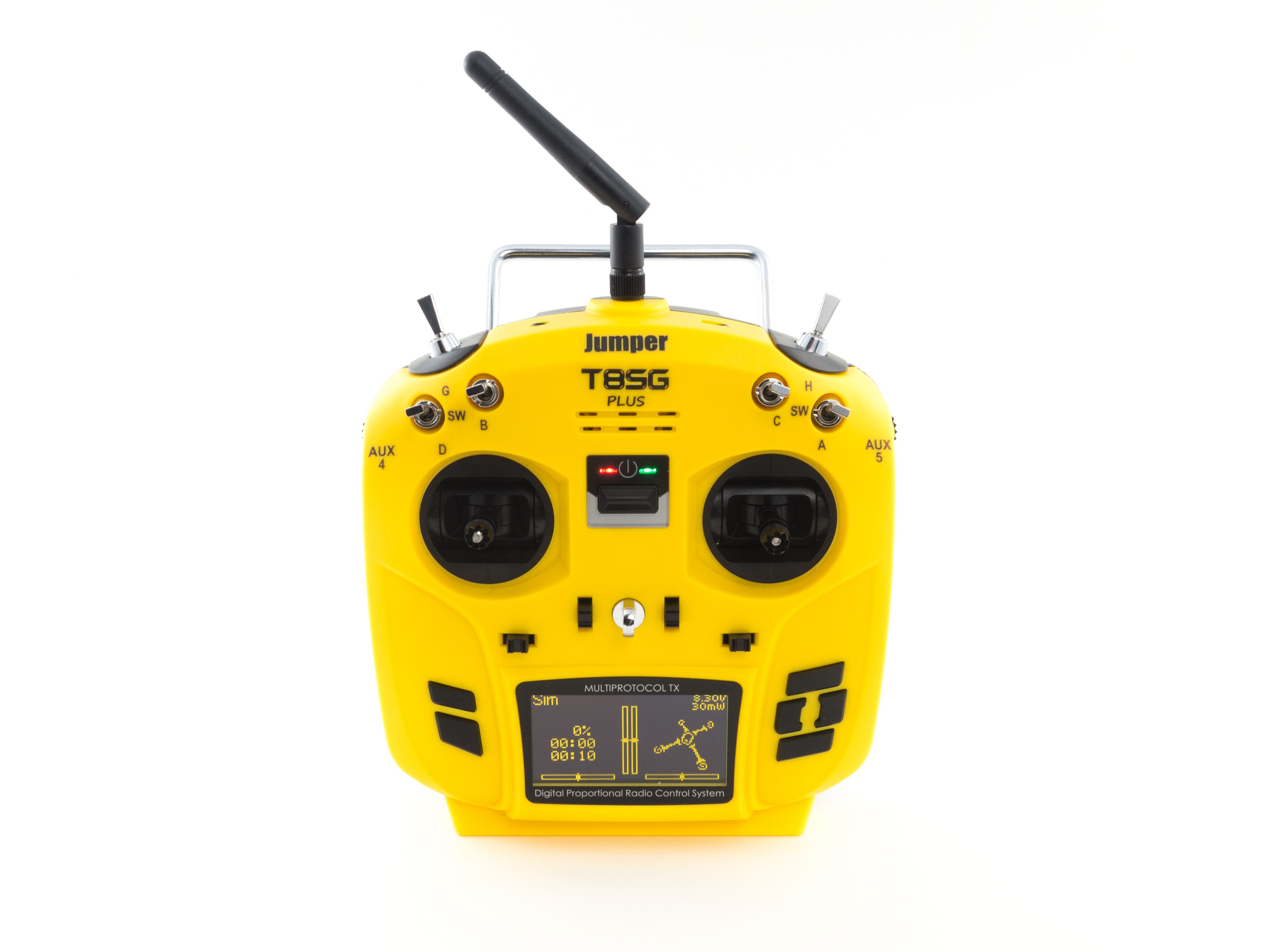 This transmitter uses the Deviation firmware. If you're unfamiliar with Deviation here's a quick primer. It's very similar to the Spektrum interface and is arguably more intuitive than OpenTX. It supports all the features you'd expect including telemetry, timers, model memory, and custom icons. Most functionality can be accessed through the on-screen menu, but to really customize it you can edit the tx.ini, add custom model.ini files, compose musical beeps and add model icons via USB. Just hold the enter button while you power up to start in USB mode. It's very simple and easy to use with an active forum to reference. The digital keyboard is a nice touch. Typing model names is far easier than on both Spektrum and OpenTX.
Simulators
This transmitter allows for a couple different methods for simulator play. You can use the USBHID protocol to play over USB, but this only works on Windows. Unfortunately MacOS doesn't support USBHID. Better yet, you can play using a USB dongle. This is basically a USB receiver. It plugs into your computer, binds to your transmitter and shows up as a controller on both Mac and Windows. The best part is it's wireless! You can use either the DMX Wireless USB Dongle or the SPM Wireless Simulator Dongle. All you need to do is bind your transmitter over the DSMX protocol. This is my preferred method to sim. I've put in several hours of Liftoff using this method. The movement is fluid and allows for an exceptional experience, especially playing wirelessly.
OLED Display
The display looks great under most circumstances. The background is a deep black contrasted with the bright yellow menu system. The resolution is very low, but all of the text is legible and clear. The only issue is viewing it under direct sunlight. You need to hold the transmitter at a slight angle to read the menus, but it's not debilitating. The buttons are intuitive and manipulating the menus is very easy. I wish more transmitters used arrow keys over scroll wheels.
Module Support
While the T8SG Plus is a multi-protocol radio it also supports modules. The biggest advantage is serial Crossfire support. There is currently a development release of the CRSF protocol for DeviationTX. It's still in the early stages, but full Crossfire support is in the very near future! This does require a slight mod though. Jumper didn't connect the bottom pin, so you'll need to solder a wire between the first and last pins to make it work.
There is currently no development to support the Frsky R9 module in DeviationTX, but that doesn't mean it won't happen. The Deviation developers are hard workers and strive to support every protocol there is.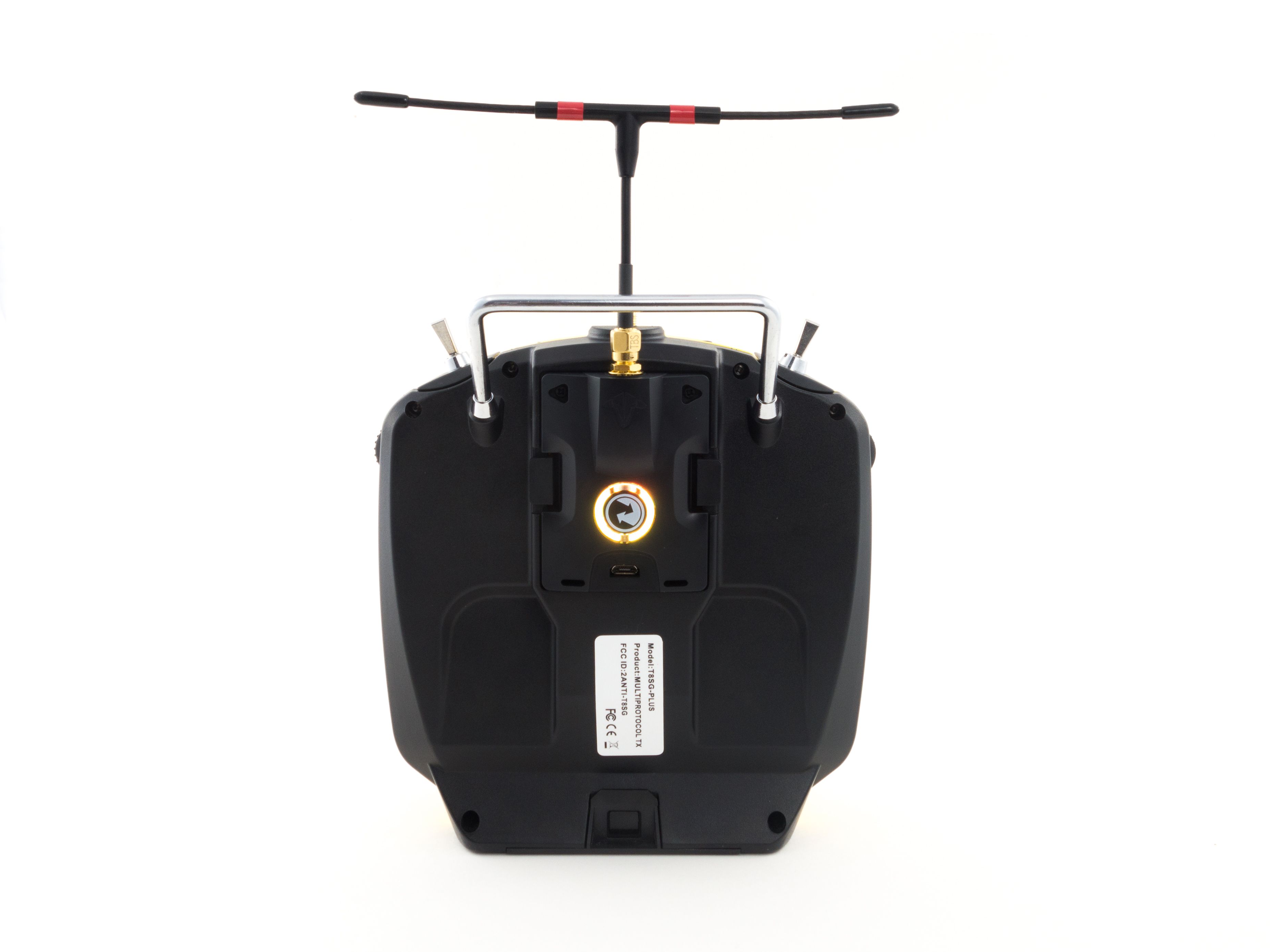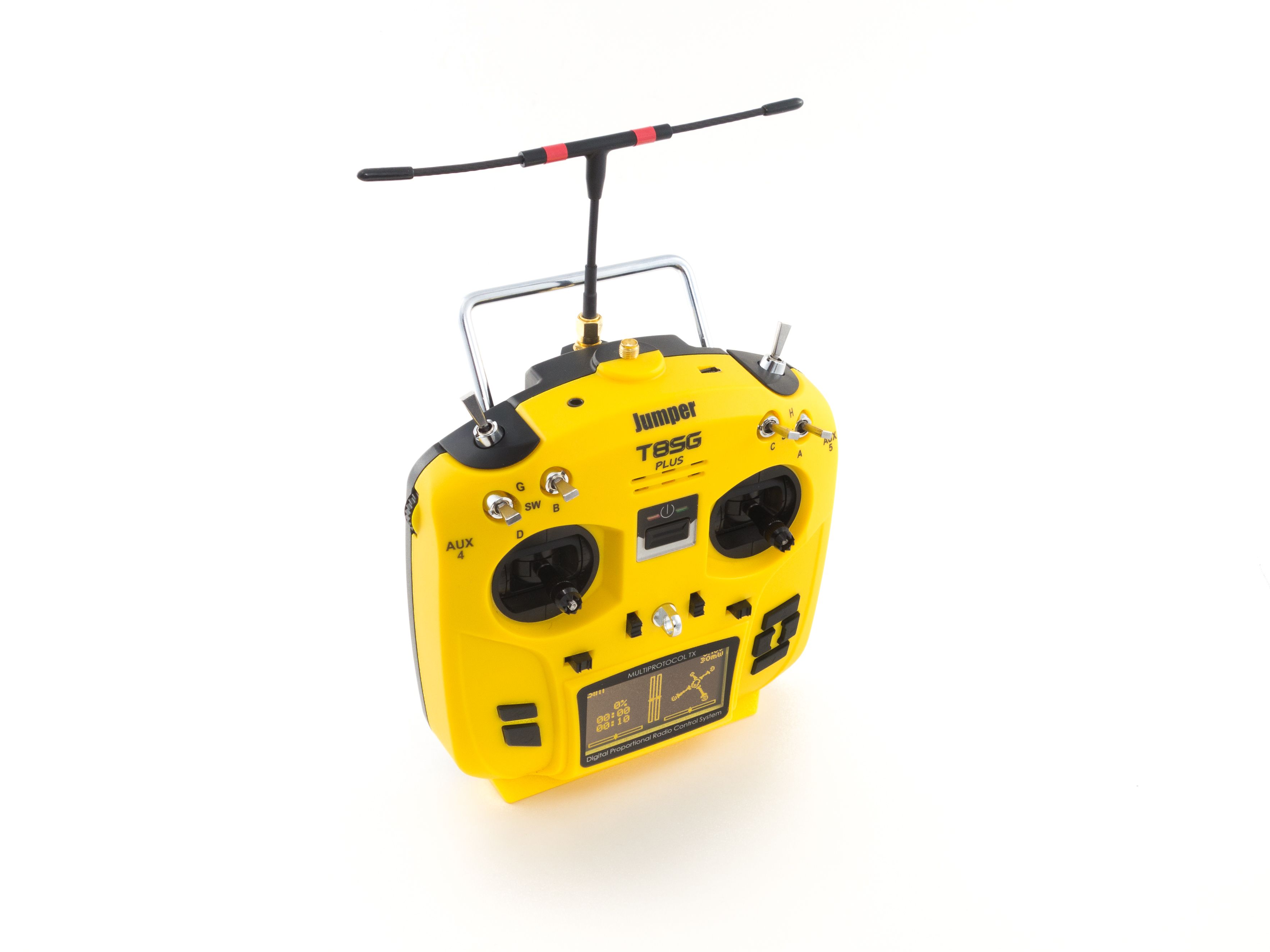 Speaker
There is no internal speaker, but Jumper provisioned for a speaker. All you need is this speaker and this MP3 player module. They provided a pin-out, screen-printed outline and even a cut-out on the battery bay to support this. There is also a circular ring for the speaker with a speaker grill above the power switch. I don't know why they didn't just put a speaker in there. For more information about the mod please, refer to this thread. There is even a Deviation Voicepacker which lets you generate your own voice pack.
Range
I didn't give this a thorough range test, but I did a fair bit of casual flying. I was able to fly about 140m away on my little micro brushed quad without losing signal, so I think the range is just fine. It's comparable to most 2.4ghz radios.
Jumper vs Taranis QX7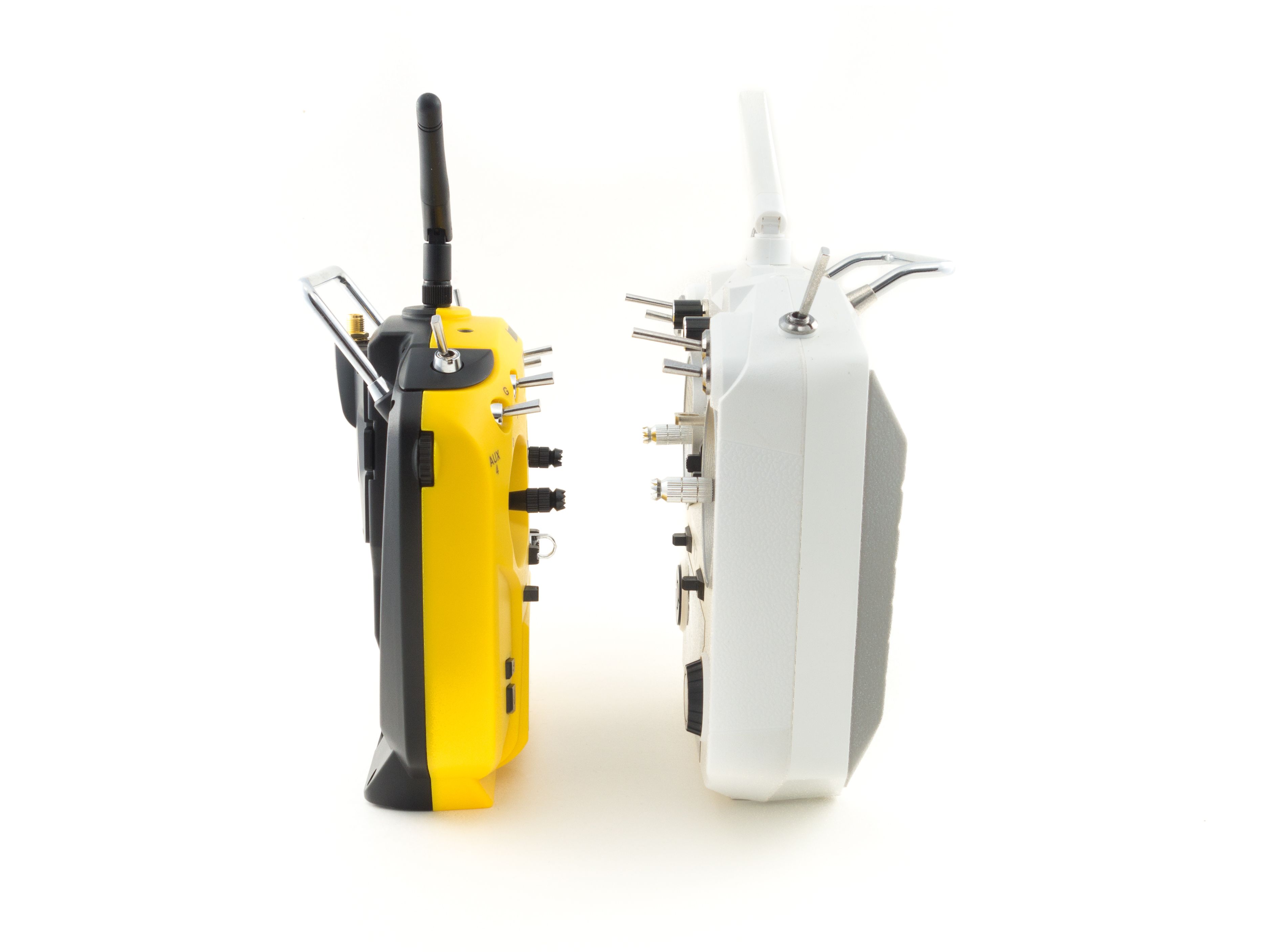 The FrSky Taranis QX7 is the go-to entry level transmitter. The receivers are cheap, OpenTX is well supported and it's a quality transmitter. Not to mention it's also cheaper. I flew for several months on the QX7, but after receiving the original T8SG I switched due to the compact size. It's much easier to pack and handle. When I go back to the QX7 it just feels huge and cumbersome. Now that I've got the T8SG Plus I'm absolutely not going back to the QX7. The gimbals are just as good and it still maintains the compact design.
While OpenTX supports Lua scripts, this is something I can forgo. I use OSD to tune, but if you plan to use Raceflight/FlightOne or KISS then you may want Lua support. While KISS supports OSD tuning they currently offer no flight controller that includes a build in OSD. DeviationTX does not support Lua scripts.
What makes the Jumper fun is the multi-protocol support. If you've got lots of toy quads then you can put away all your cheap controllers. While you can still fly them on a QX7 it requires purchasing a multi-protocol module.
Tip: In order to bind to FrSky receivers, you need to adjust the Freq-Fine setting by pressing enter on the FrSkyX protocol. I found -40 to work on my XSR and -10 to work on my XM+, but it depends on your receiver. Try intervals of 10 until you find a value that works and double check your RSSI signal to ensure you've got the best frequency.
Jumper T8SG Pros
Hall sensor gimbals
More compact and lighter
Multi-protocol support
Removable antenna
Up to 150mw transmission power
OLED display
Taranis QX7 Pros
Community Support (OpenTX)
Built-in Speaker
More stick throw
Larger screen
Better build quality
Lua scripts for PID tuning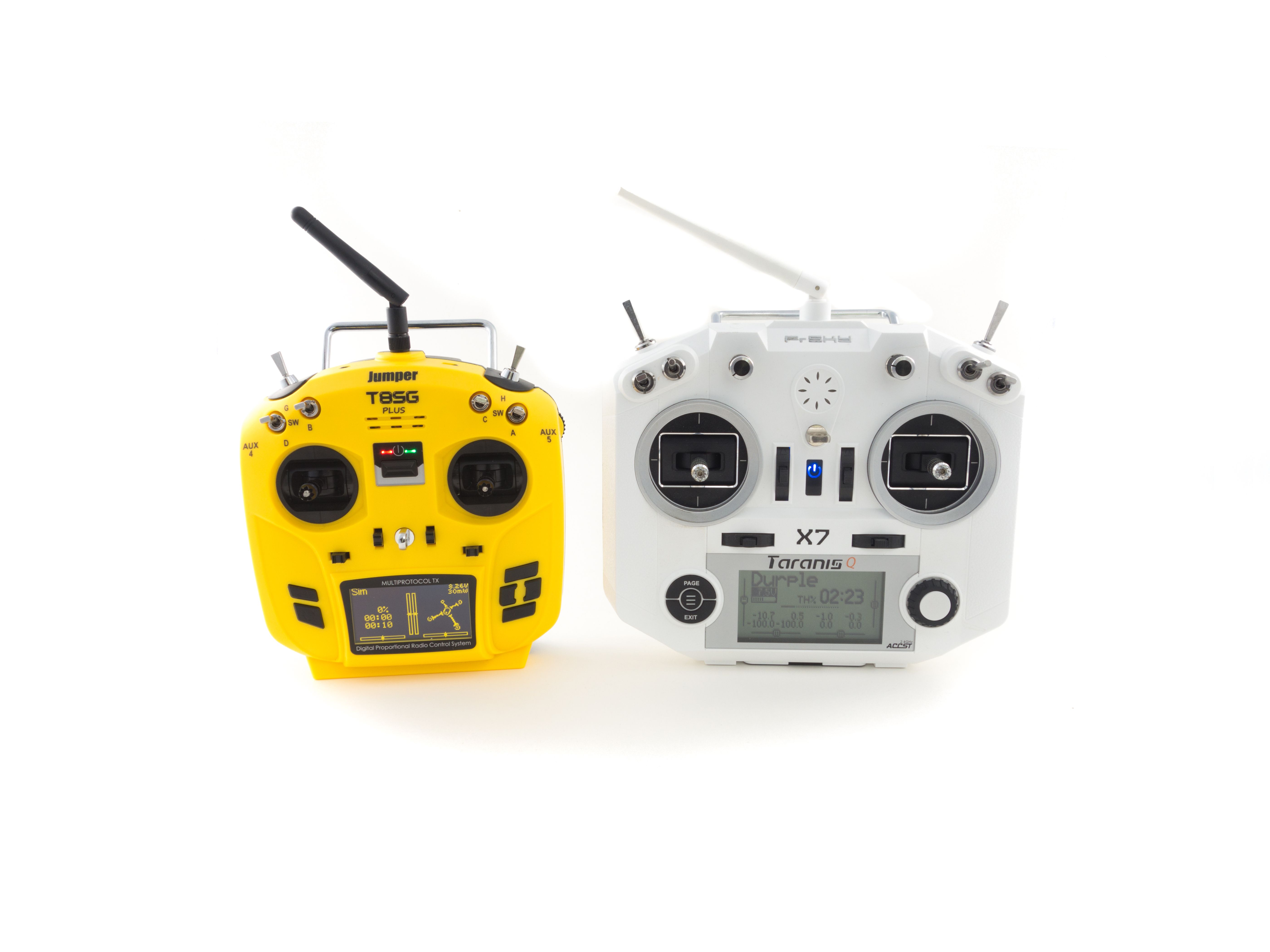 Jumper VS iRangeX IR8M
The iRangeX IR8M was introduced following the release of the original Jumper T8SG. Both run DeviationTX and a multi-protocol module. The IR8M is much cheaper, but you lose a lot of quality. After numerous issues and iterations the IR8M is still not perfect. I've got the first and second generation and while they did fix some issues, they didn't fix them all. I think this is just a testament to the quality of product Jumper is putting out.
Jumper T8SG Pros
Hall sensor gimbals
OLED display
More compact
Lighter weight
More intuitive button layout
Carrying case
Better quality all around
Includes lanyard
iRangeX IR8M Pros
Larger display
Ergonomic grips and wider stance
Includes a free 2.4G receiver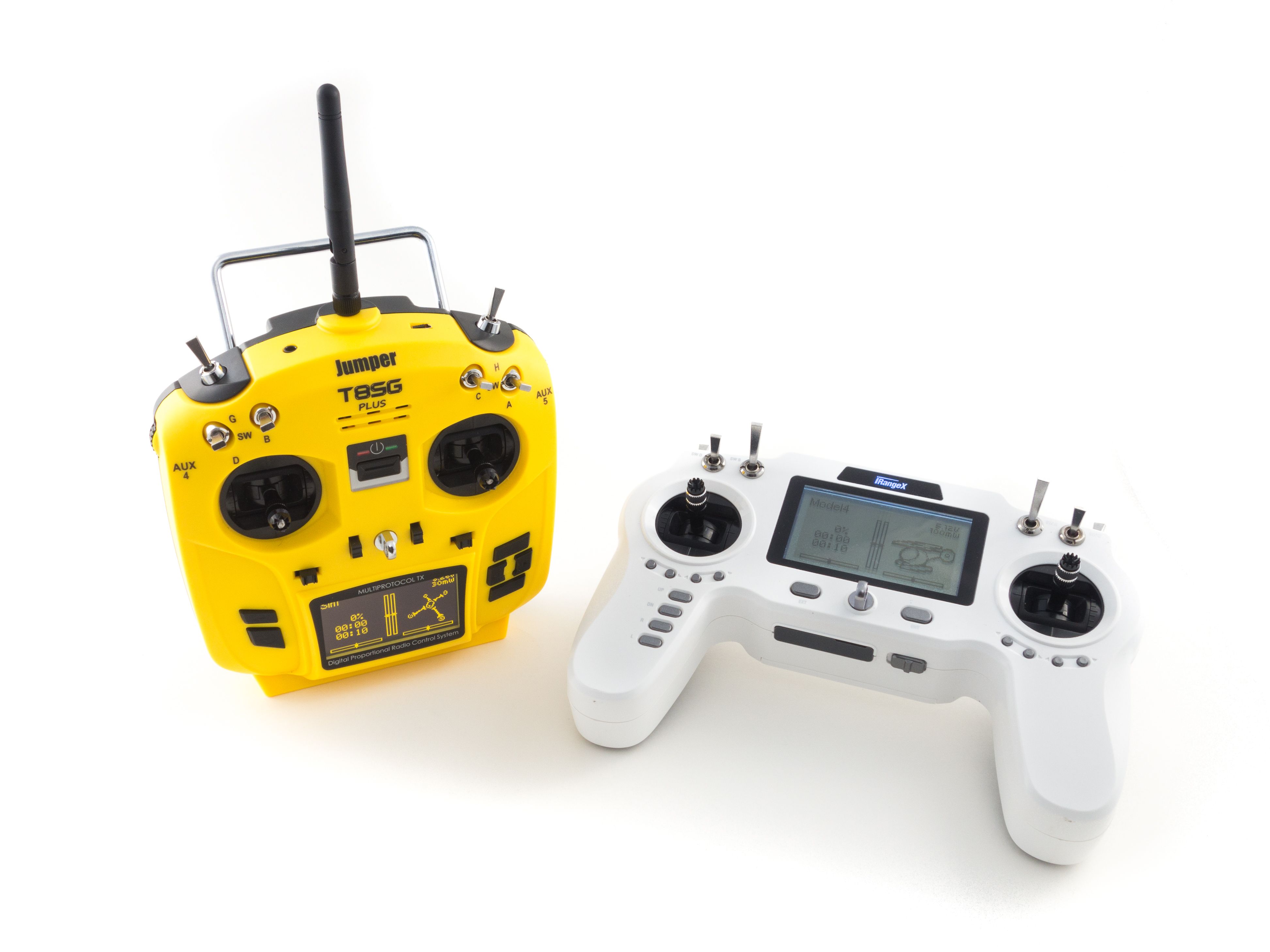 Teardown
This transmitter is very easy to service. To disassemble you need to remove 6 screws from the back and carefully lift the black clips on top of the transmitter. I found it easiest to pop them off from the front with a very thin flat head driver. If you compare the layout to the previous T8SG you can see they did a great job of shortening the wires and organizing the components. I took the gimbals out to compare to the previous T8SG and QX7 gimbals. It seems they used small ball bearing enclosures while the original used a potentiometer for both reading the position and as a swivel point. The display is glued to a plastic bracket, so unfortunately I was unable to determine the manufacturer or model. You can also see the outline for the MP3 player and the cut-out on the battery tray. Also pictured is the circular slot for the speaker at the top of the shell.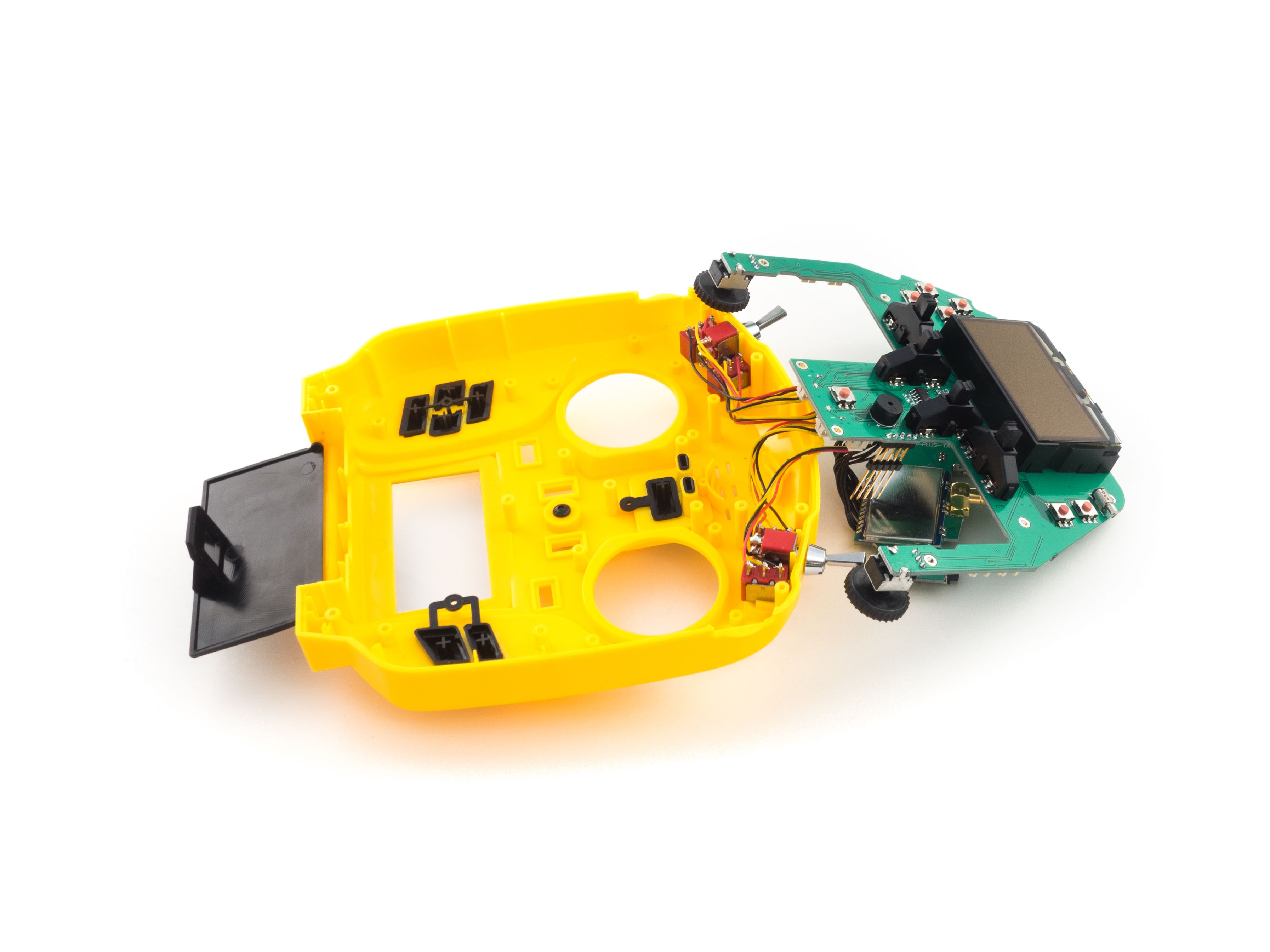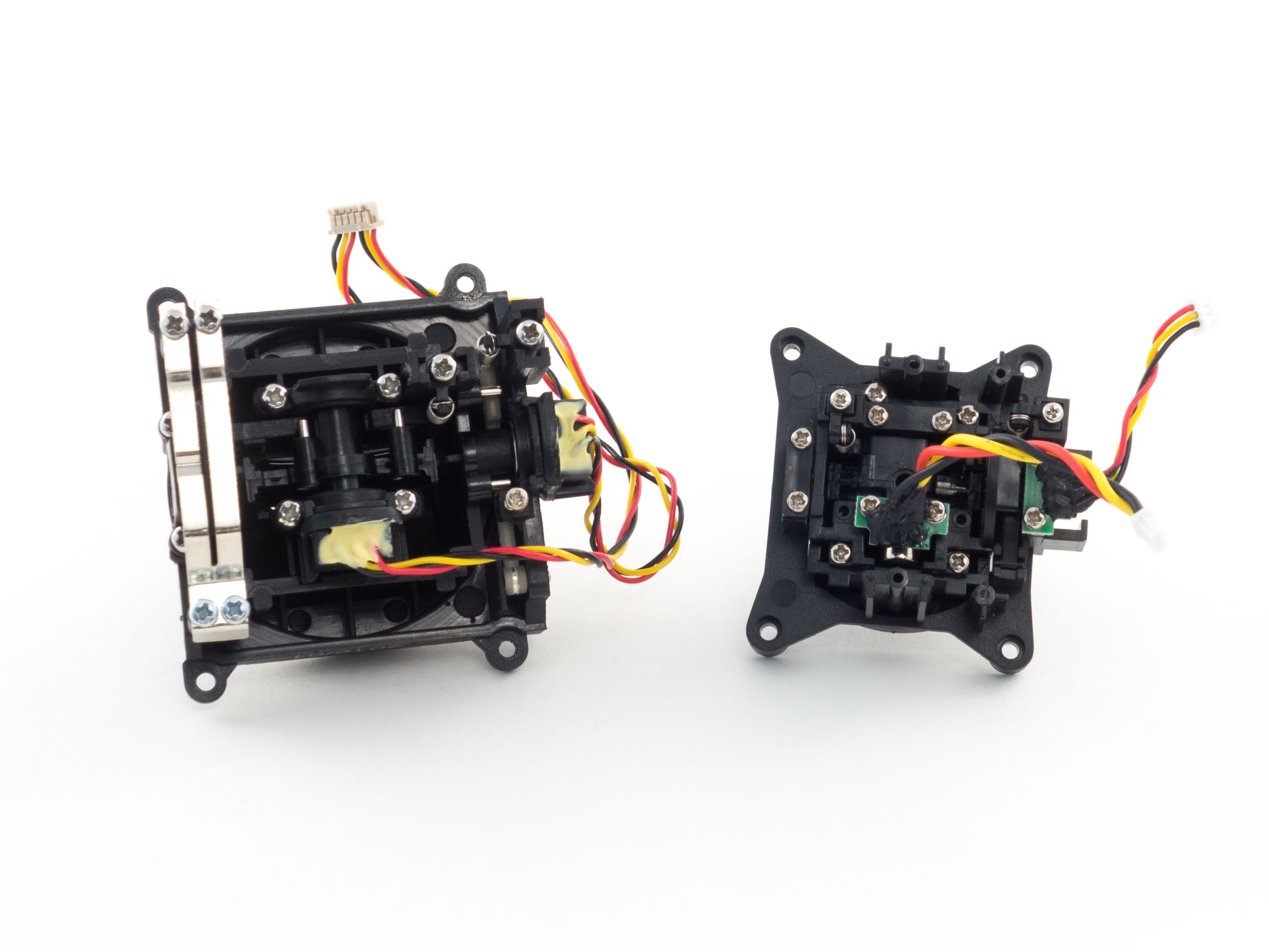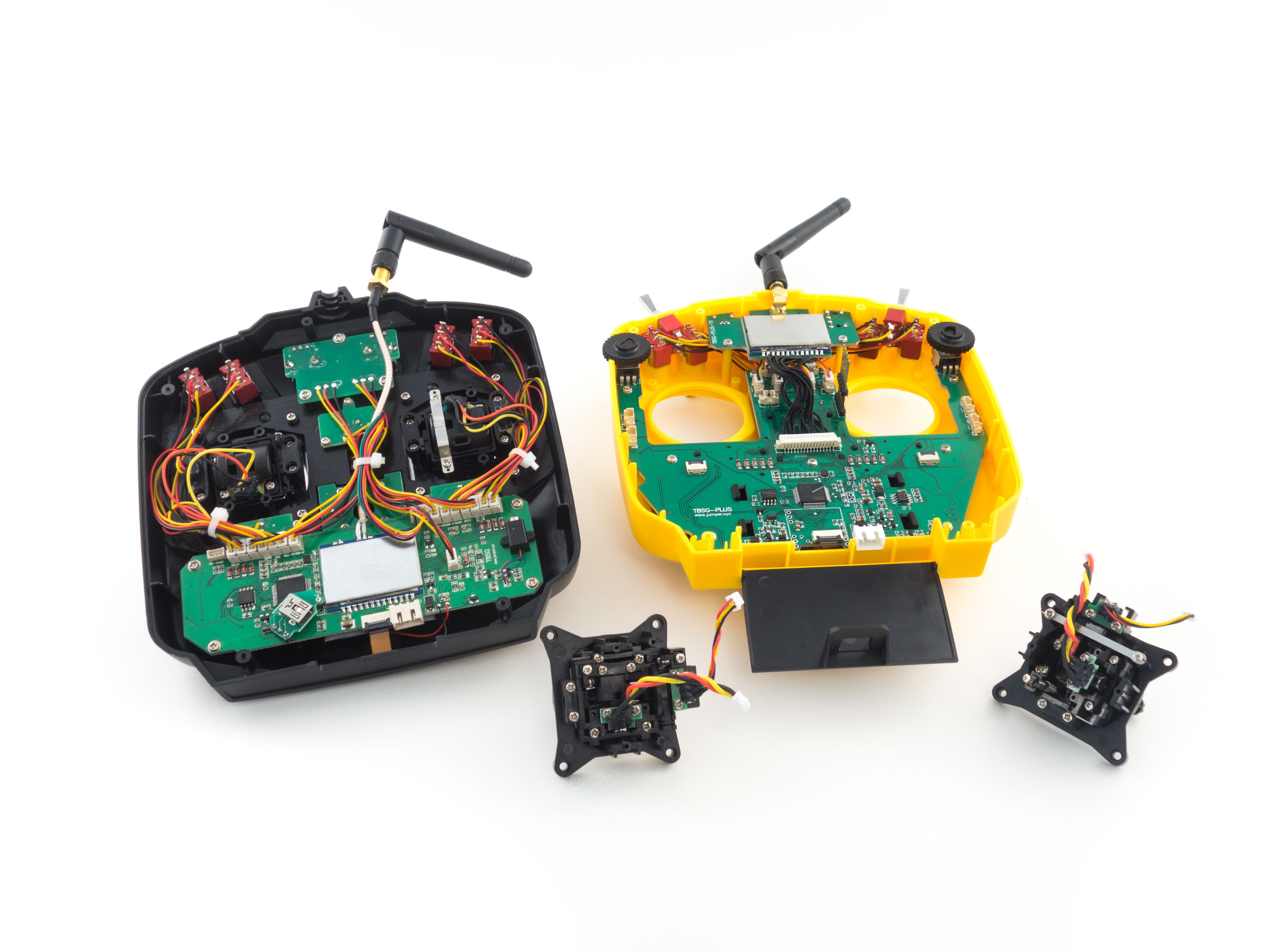 Final Thoughts
Now there are a number of transmitters ready to hit the market. The most exciting is the new FrSky X-Lite which will cost about the same as the T8SG Plus. It also features hall sensor gimbals and a compact design. You won't be able to run a multi-protocol module on it, nor does it support Crossfire. If compatibility is your goal then the T8SG Plus is still a contender. If you want to get into long range and you're not committed to Crossfire then you can use FrSky's R9 long range protocol on the X-Lite.
Jumper also offers the T8SG V2 which is an upgrade to the discontinued T8SG. It does not include hall sensor gimbals or an OLED display, but it matches the T8SG Plus very closely. At a good price it's definitely worth considering.
The only issue I had was a slight jitter on the sticks at center position. They were fluctuating between 1498 and 1502 powered by AA batteries. It turns out the internal 3.3v regulator wants a little more power than a set of AA batteries can provide. The solution is to power the transmitter by a 2S lipo. I've been running a little 1000mah battery, but you can likely fit a larger pack inside.
When it's all said and done, the T8SG Plus is a great little transmitter. I've been binding it to all my rigs and don't miss using either my QX7 or my DX6. Now I can carry an entire FPV experience in a little backpack. The versatility is great! I swapped out the stick ends for longer 25mm (M3 screw) sticks and they're just perfect for a pincher like me. Flying standing without a neckstrap is not a problem. I'm very impressed with what Jumper is doing and I really hope they succeed.
Disclaimer: This radio was provided courtesy of Banggood.com in exchange for a fair and unbiased review. This article utilizes affiliate links and purchasing any product mentioned here will help support RotorBuilds.com