The EV200D is Eachine's long awaited follow-up to their budget oriented EV100. These offer a much larger 42 degree field of view (FOV) on 16:9 720p LCoS displays. This is the second goggle to utilize the LCoS technology behind the failed Topsky F7X. Traditionally FPV goggles use LCD displays, so LCoS is unproven, but Eachine did a great job implementing the technology.
Features
DVR
HDMI input
42 degree FOV
Battery included
Can be powered via USB
Dual module bay "quadversity"
Optional cover with windows for OLED RX modules
16:9 displays (switchable to 4:3 at 35 degree FOV)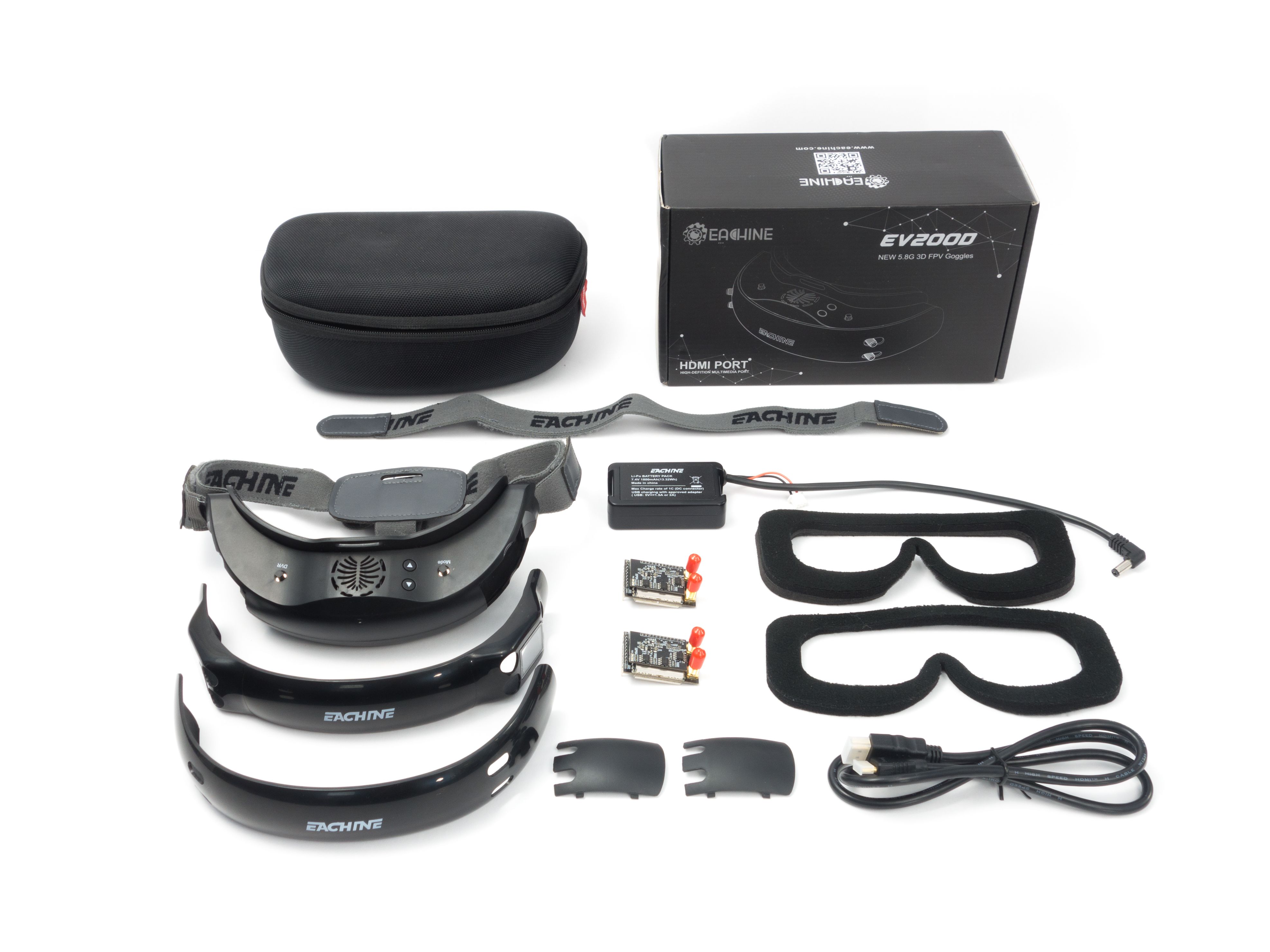 Build Quality
The plastic shell is decent and appears to be the same material used on the EV100. It gets the job done, but it's not as nice as most other goggles. The headstrap is well made, but it forms lint balls. The battery holder is great with slots to hold the cable in place. An optional top strap is also included to help distribute the weight. The face foam is nothing spectacular, but again, it gets the job done. The buttons work well enough, but the joysticks are very minimal and a bit too pointy around the edges. They're basically the same components used on the EV100. I would say the overall build quality is on par for the price.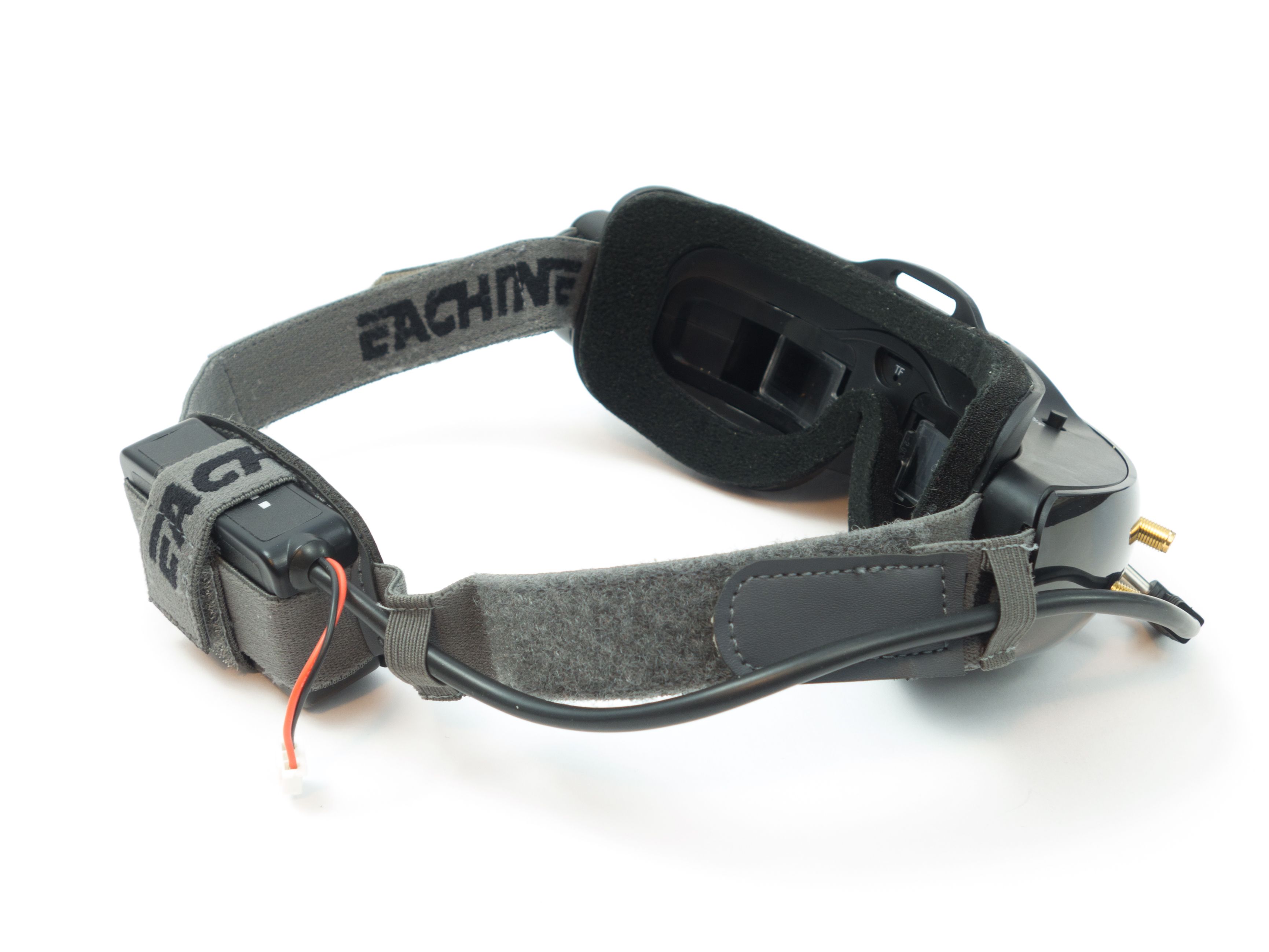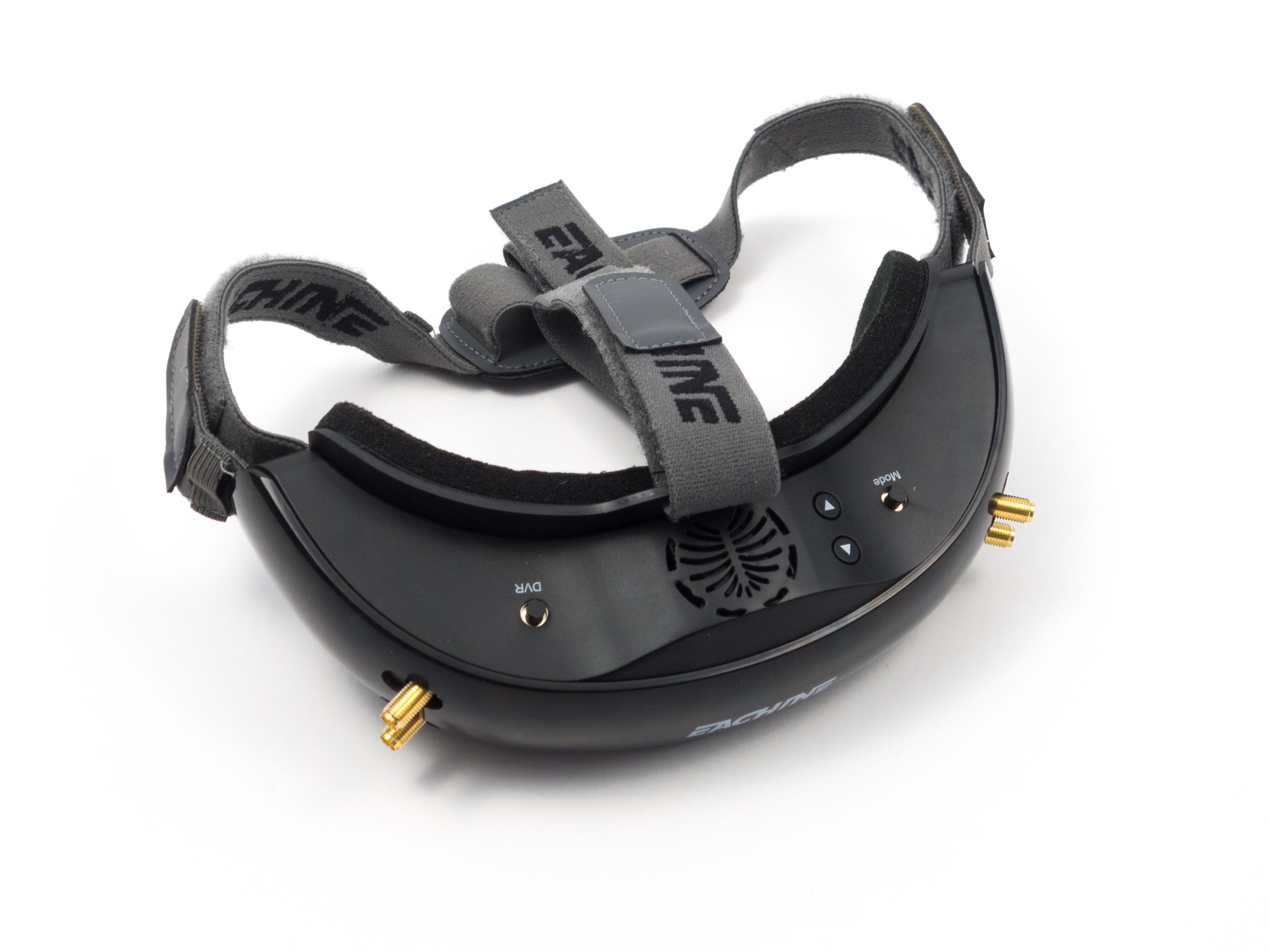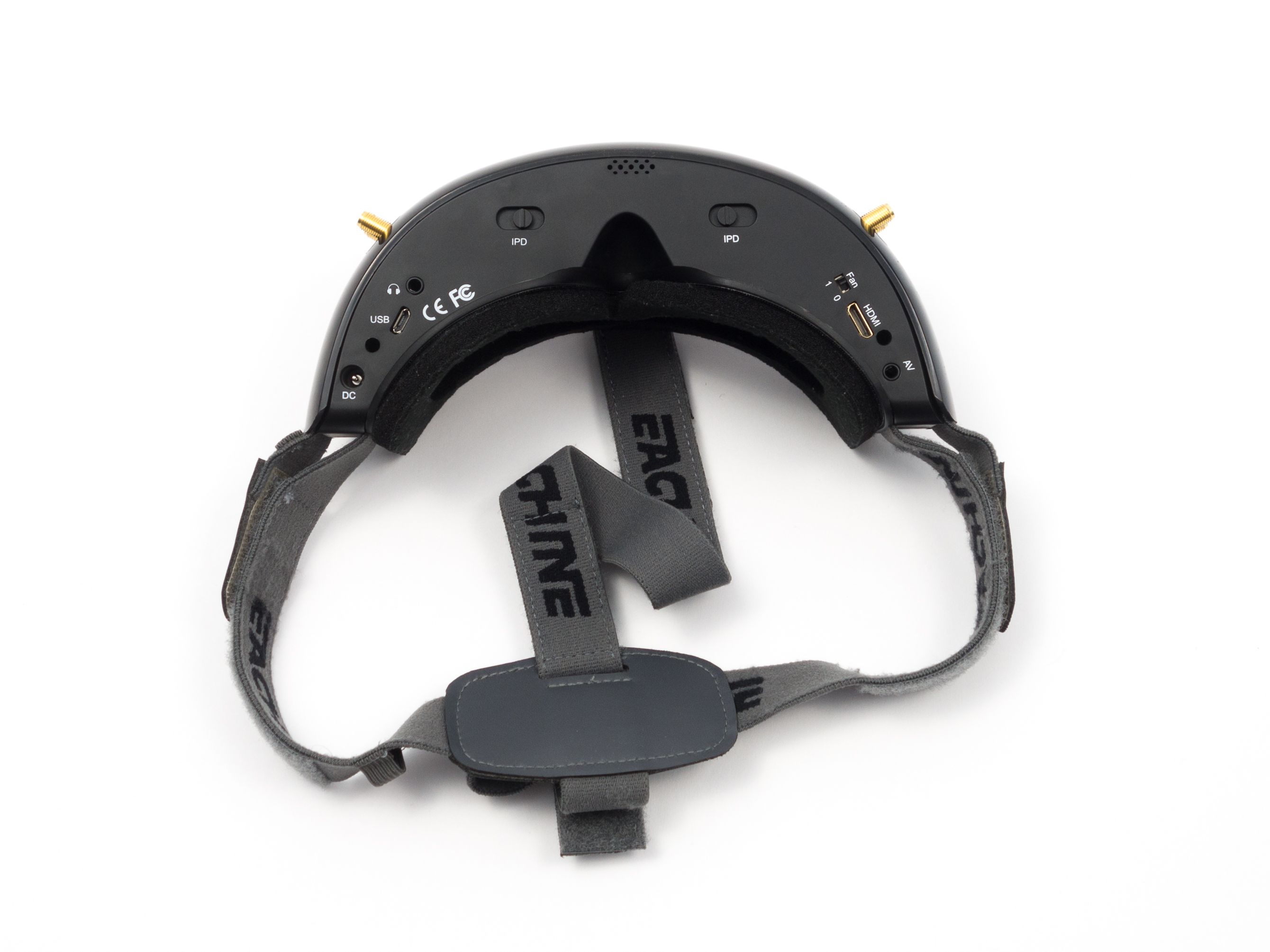 Image Quality
So how's the image quality? I have to admit it's quite good. The colors are rich and the resolution is great. The brightness and contrast are both adequate and I find no need to increase the brightness beyond 65%. The color saturation is also very good. These don't look washed out like most LCD-based goggles. These do suffer from a small amount of edge blur toward the left and right sides of the screens, but no other goggle with this FOV is immune to that.
Since these use LCoS displays there is a certain amount of "ghosting". It appears like very faint clouds over the displays. These clouds can also create small blurry spots. It's almost like a small water droplet on your glasses. They're not easy to see over an FPV feed, but are much more apparent over HDMI. Most people won't even notice this, but I thought I'd point it out.
IPDs
The IPDs offer a fairly generous range (56-72mm) and even accept FatShark diopters. The only problem is the diopters don't insert very smoothly and can be a bit difficult to remove. Also, if they aren't fully inserted the little tabs can prevent you from reaching the most narrow IPD positions. What's unique is the diopters slide with the screens unlike FatSharks where the diopters stay in place. Also, as you move the IPDs toward the extremes one screen or the other will start to lose a small part of one side. Between the two screens you'll always have the full picture, but you'll have to experiment to get it just right. They're fairly forgiving though, and I've found my eyes accept a range of different positions.
Comfort and Fit
These are wide goggles, so they should fit most faces. If your face is too narrow you might experience a little light leakage outside your eyes, but the thicker foam can help. For me the leakage is very minimal and not distracting. They can pinch your nose a bit, but the optional head strap really helps relieve the stress.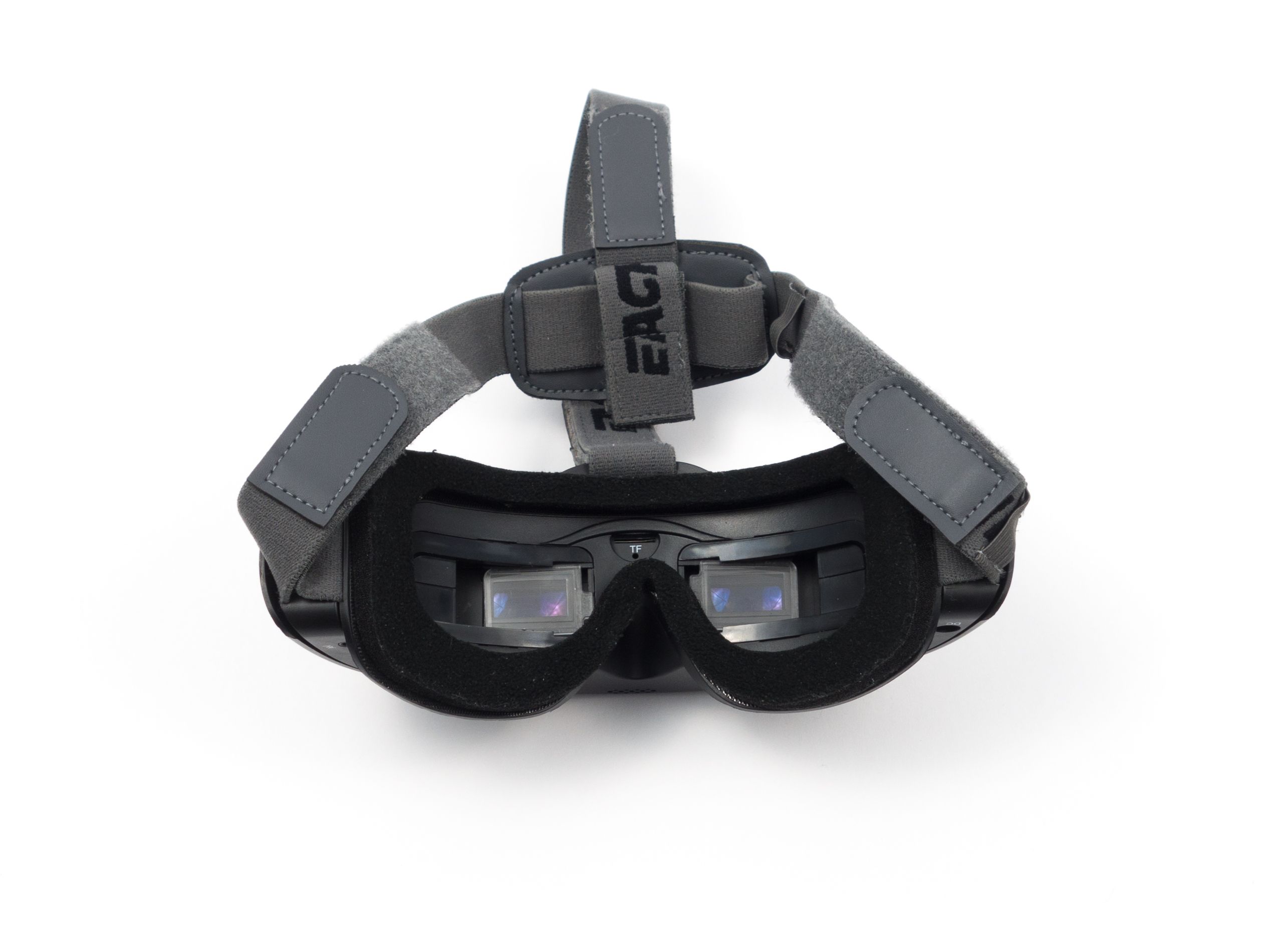 Gripes
Now for the gripes, and yes I've got a number of them. For one, the DVR requires a 10 second long-press to start. There is no auto-record function, so you need to do this every time you power up. Disabling the OSD requires pressing both channel buttons simultaneously, but this is easier said than done. 4 times out of 5 it changes channels. There's a very unforgiving sweet spot where you need to press these two buttons at exactly the same moment. And again you need to do this every time you power up. I've also found the stock receivers to have trouble locking on to a signal. They sometimes require a power cycle or switching channels to get the feed to show up. Also, the fan is fairly loud and creates a very subtle vibration through the unit. This is crucial though because the main problem with the Topsky F7X was overheating. And finally, why put RP-SMA connectors on the receivers? There are far more SMA antennas on the market. Eachine had it right putting SMA on the EV800D, so why go back to RP-SMA?
HDMI
FPV goggles have never really offered a good HDMI experience. You won't find yourself watching movies or TV shows. The quality just isn't there, nor is it very comfortable. Most LCD goggles look pixelated and pale in comparison to your normal monitor. Then there are the Fatshark HDOs which offer a 720p resolution. The image quality is great, but they squeeze the aspect ratio to 4:3 and blow out the whites. You can't even read text on a white background. Now we have the EV200Ds with their 16:9 720p displays. These are hands-down the best "video glasses" you'll find in the FPV market. 3D side-by-side videos look great as well as 2D video. The LCoS ghosting is a lot more apparent on high contrast environments such as white text on black, but full motion video looks quite good. Don't expect these to replace your favorite monitor though. Watching movies on a FPV headset is still quite uncomfortable.
Getting the HDMI to work is another story. It works great on my Macbook Pro in mirror mode, but unless I switch to dual displays it appears scrambled on both my Windows laptop and Chromebook. I also found that unless the goggles are turned on and in HDMI mode the computer may not recognize them. I can also report that the headphone jack does output HDMI audio.
DVR
As I mentioned earlier the DVR takes a fair bit of time to start up. It requires a 10-second long center press to begin. From there you can center press to start or stop recording. For playback you need to long press toward the right for a few seconds. From there you'll be presented with a your video thumbnails. Choose one and center press to watch and press right or left to toggle the speed forward or backward. This uses the same DVR software as the Topsky F7X, but Topsky neglected to include the fast forward and reverse functionality. This is crucial for quad retrieval, so it's great that Eachine added it.
Now the video quality appears to be very blown out. I tried a couple different cameras and both look over-exposed. It's particularly bad on a bright day. I really hope Eachine comes up with a fix for this. I would say that currently this is the biggest flaw of the headset.
Quadversity
These are the first goggles to feature dual module bays and quadversity. The main advantage here is you can run three directional antennas and a single circular polarized antenna. For example you can run a patch behind you, in front of you and toward that tree over to your right that always gives you interference. Unfortunately acquiring this many directional antennas can be costly. And don't forget these use RP-SMA connectors, so you'll need adapters for the most popular SMA antennas. Another point to keep in mind is quadversity only works between the included receivers. For example, you can't combine an RX5808 and a Pro58.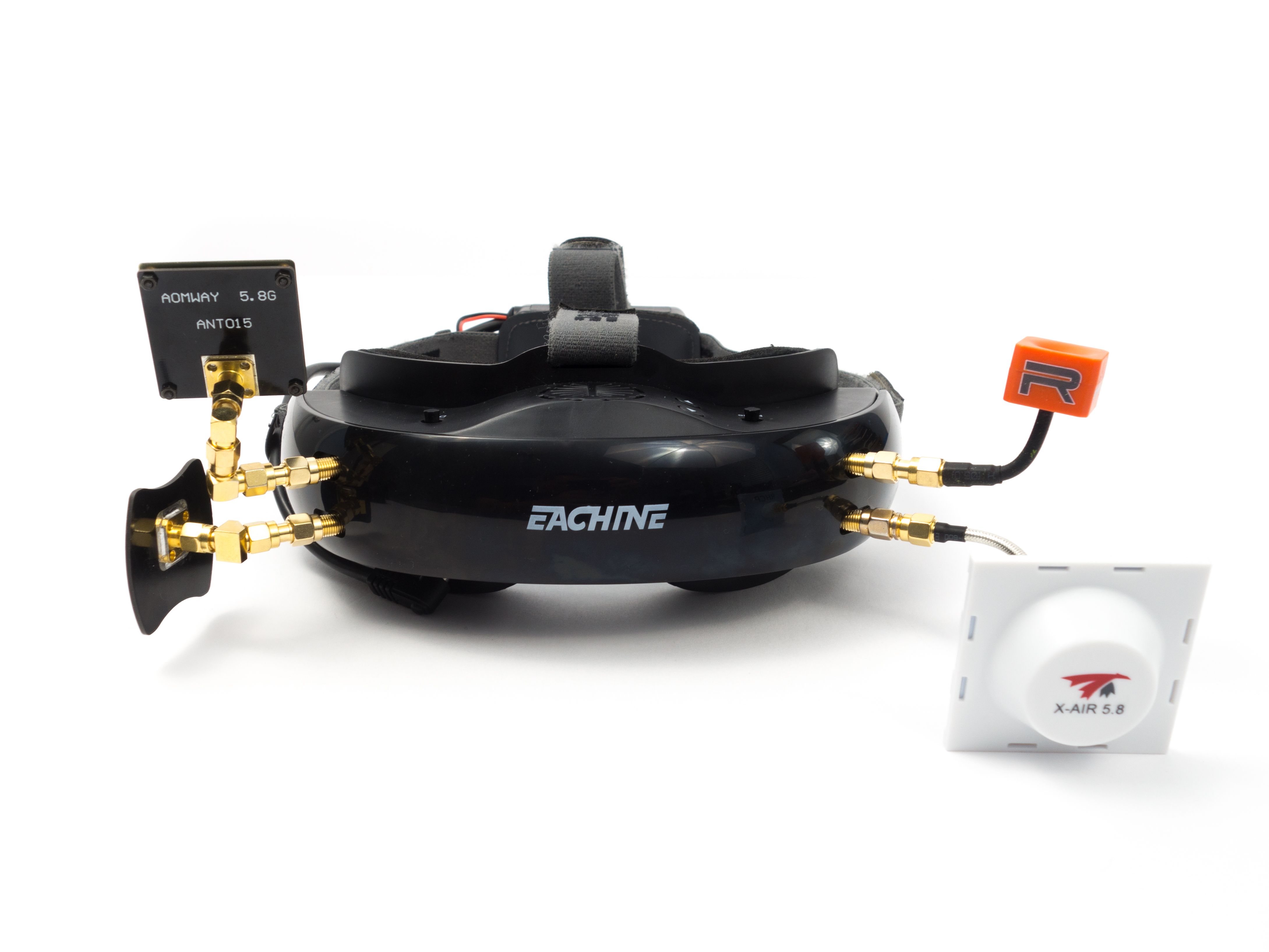 Goggle Comparisons
Now I've been fortunate enough to amass quite a collection of goggles. I love to compare them and spend a couple hours looking into each one before I write a review like this. Here are my thoughts concerning a number of the popular goggles on the market today: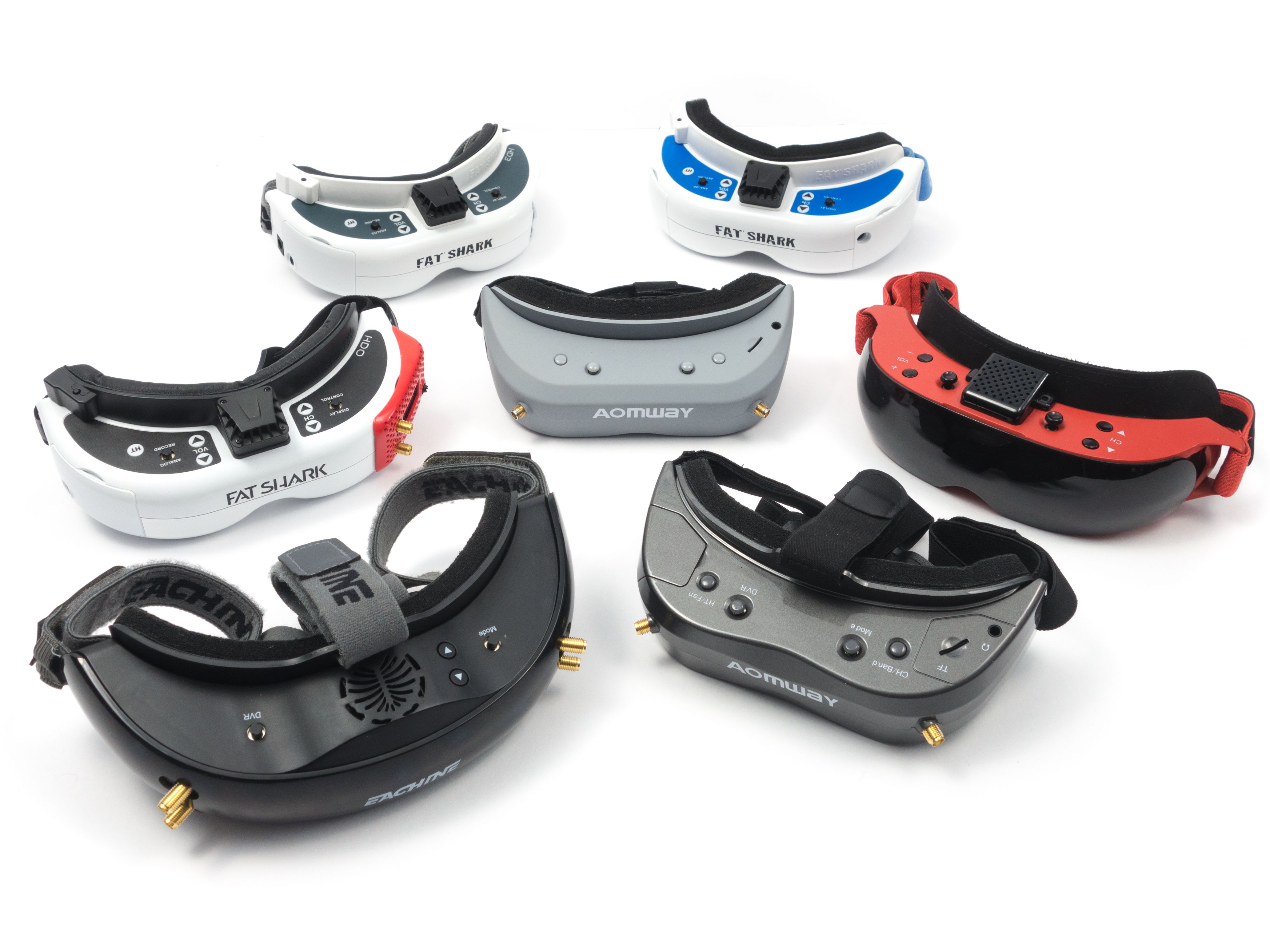 EV200D vs Topsky F7X
Let's start here since these two goggles use the same technology. First and foremost, Eachine did a fantastic job with these displays. The Topsky F7X was plagued with overheating issues, a blue hue, intermittent switching to black and white, ghosting and some video jitters. The EV200D looks substantially better with a sharper image and less ghosting. LCoS displays have no backlight, so the light is reflected off the front of the displays with mirrors which project the image back to your eyes. Because of this you can see what appears to be faint clouds over the image. It's much less obvious on the EV200Ds, but it's still there. I had my doubts about this technology after the Topsky debacle, but Eachine impressed me.
EV200D vs 16:9 LCD Goggles
There are a number of 16:9 LCD goggles on the market including the Aomway Commander V1, Fatshark Dominator V3, Skyzone Sky02 and the Flysight Falcon FG01. They all use the same 854X480 (WVGA) displays and offer a 30 to 32 degree FOV. They also sell at the same price point at around $300. The build quality varies among them, but they're all generally well built and function well. The main issue I have with them is the small FOV and low resolution. The safest bet is the Fatshark Dominator V3 because it comes with FatShark's stellar customer support. If support doesn't concern you then the EV200D is a fantastic option at this price point. It has a much larger FOV, sharper displays and better colors. The EV200D also supports modules like the Dominator V3, so you have the option to upgrade your receiver in the future.
EV200D vs FatShark Attitude V4
The EV200D is a 16:9 goggle while the Attitude V4 is a 4:3 goggle. The reason I want to draw this comparison is because the EV200D has an option to switch to 4:3 mode. It simply crops the sides of the display to condense the image. This brings the FOV down to around 35 degrees which is very similar to the 32 degree FOV of the Attitude V4. If you plan to fly 4:3 exclusively then the EV200D may not be the ideal choice, but at least it's still larger than the Attitude V4.
EV200D vs FatShark HD3
While the FatShark HD3 runs at a 4:3 aspect ratio it also offers a 42 degree FOV. Until recently the HD3 was the premier FPV goggle, but now that there are a number of large FOV goggles on the market it's not the obvious choice anymore. At $100 more than the EV200D it's quite an expense. You'll also need to buy a module, so add at least another $30-$50 and don't forget to buy batteries. When it's all said and done you're looking at a $150 premium over the EV200Ds. Of course don't forget FatShark's resale value and customer support. Between these two goggles it really comes down to your budget and preference. If you want 4:3 with a large FOV then you have to expect to pay at least $100 more.
The HD3 uses LCD displays, so they won't look as rich as the EV200D, but 4:3 is debatably more immersive. Both of these goggles also suffer from a little blur around the edge of the screens, but this really can't seem to be avoided. This is really an apples to oranges comparison, but it's worth a mention.
EV200D vs Aomway Commander V2
The Aomway Commander V2 uses the same 4:3 displays as the HD3, but offers a slightly larger FOV at 45 degrees. The build quality is fantastic and they're very nice goggles. The FOV feels much larger than the EV200D. The Commander V2 includes built-in receivers, so there is no need to purchase them separately, but you cannot upgrade them in the future. Personally, I prefer the immersion of the Commander V2, but they also come at a premium. When you're looking at a $100-$140 savings you may still want to consider the EV200D.
EV200D vs FatShark HDO
The FatShark HDO is the first FPV goggle to use OLED displays. They're rich and sharp. They offer a 4:3 aspect ratio on 720p displays, but at 37 degrees. The displays look great and don't suffer from any edge blur. What surprised me about the EV200D is the richness and colors of the displays. They're very close to the HDOs. Of course the HDOs cost $200 more without a module, so it's not a very fair comparison. One thing to point out is in 4:3 mode the EV200D offers nearly the same FOV as the HDOs. Another thing I noticed is the HDO displays have slightly warmer colors while the EV200D is a bit cooler. These are two completely different goggles, but Eachine has proven that LCoS can look quite good compared to OLED.
FOV Comparison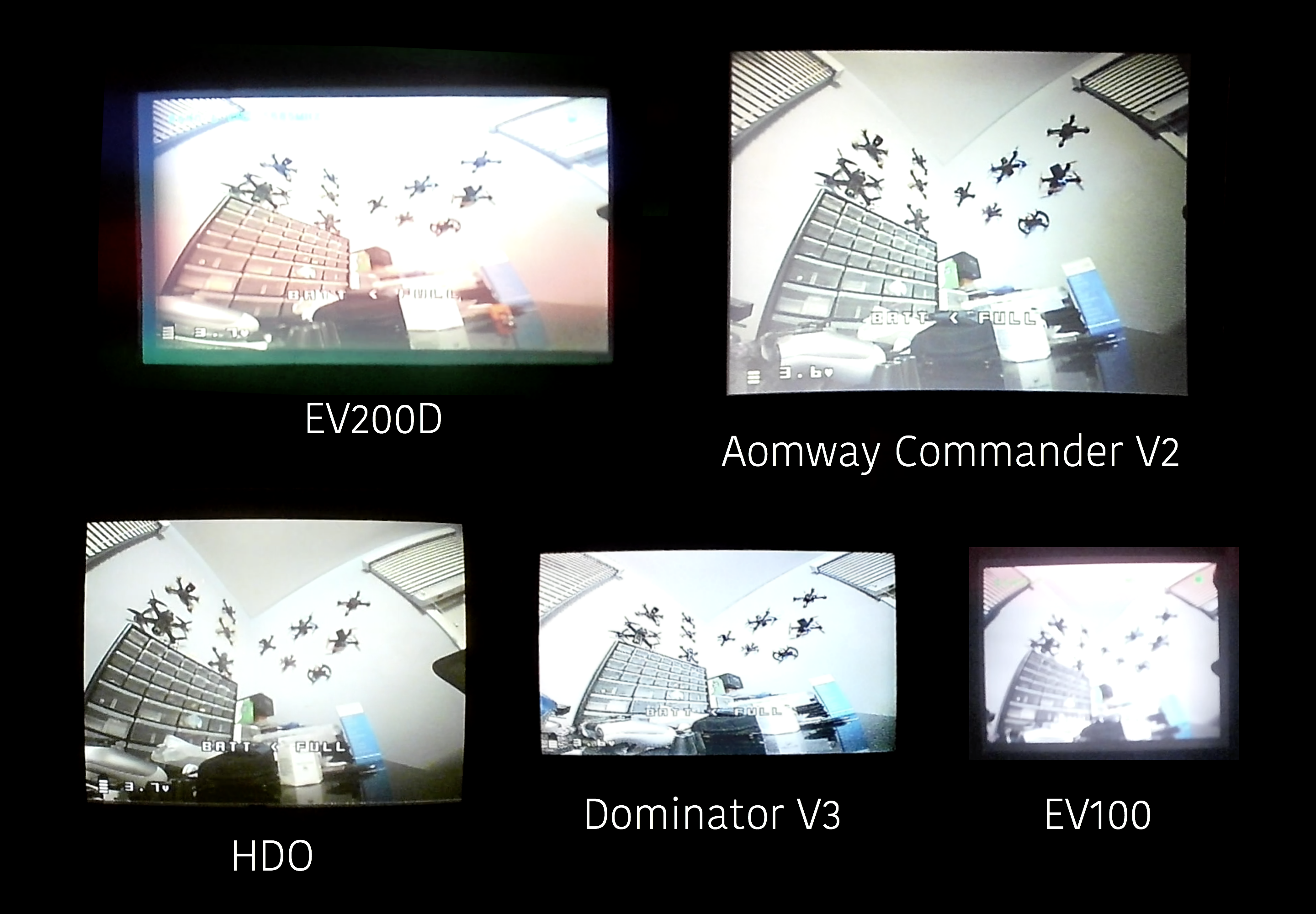 I put this image together to demonstrate the FOV range among the various goggles. This is not meant to demonstrate the video quality as the LCoS projection displays are difficult to capture accurately. They look nothing like what you see in the image. Also, while the Eachine EV100 is nowhere near this price point, it's helpful to see how small the FOV really is.
Final Thoughts
Despite a number of shortcomings these are pretty good goggles. Nothing else on the market offers a 42 degree FOV at this price. The colors are rich and the resolution is great, particularly on higher end CMOS cameras. Now these are the first high-end goggles to come out from Eachine, so their support has yet to be seen. Don't expect FatShark-level support, but you'll still have the support of the retailer for a short while. If you're looking for a 16:9 goggle then these are an excellent choice.
Disclaimer: This headset was provided courtesy of Banggood.com in exchange for a fair and unbiased review. This article utilizes affiliate links and purchasing any product mentioned here will help support RotorBuilds.com