This is a rebuild of my 6" Armattan Rooster. The major change is the flight controller, ESC, and battery. Once again this is one of those time where I could not leave something that works, alone. I felt that I was not using the full potential of the Rotor Riot Hypetrain Ummagawd 2306 2150kv Motors and I wanted to move to a 5 cell setup to help boost its performance. If I future proofed my quad when I first built it, this would have be a quick swap of a lipo battery. The Spedix G30 ESC was my main limitation because it only supports up to 4s.
I went on to the RC groups classified ads and picked up a set of Airbot Wraith32 v1 ESC. All I did was swap out the GS30 esc for the Wraith32 and that went downhill from there. I will let the video speak for it self, check out Before and After below.
Before: Spedix G30 ESC

After: Wraith32 v1 ESC

This is a prime example of "If it ain't broke, don't fix it." As you can see this ESC "upgrade" is more like an downgrade. Around the same time I learn about a new flight controller by HelioRC. So I end up ditch all the old electronics and went with a DALRC 4-in-1 40A 32bit Engine and HelioRC Spring IMU-F Flight Controller. Even with this new setup the FPV is video still has a little bit of noise but it was not enough to distract me as I fly.
With a 5s Lipo it really woke up the Hypetrain Ummagawd 2306 2150kv motors. Unless I plan to do some speed runs, there is no need for me to move up to 6s. Plus the DAL esc is limited to 5s, so I could go 6s anyways.
I also just learned that the GoPro Hero 5 has a builtin GPS so I can enable the data gauge overlay. I am not sure if I will keep flying with the full size gopro because I can totally feel the extra weight when I am flying. The only reason why I might keep using a full size GoPro is if I get the new Hero 7 that has the HyperSmooth video feature.
One last thing, I switch to a different prop because I did not like how the 6" Dal props are so loud. Now I am using some Gemfan Flash 5552 Props and they work great. Here is a video of the Rooster on 5s with the GF Flash 5552:

Update Nov 30 2018: FPV Camera Angle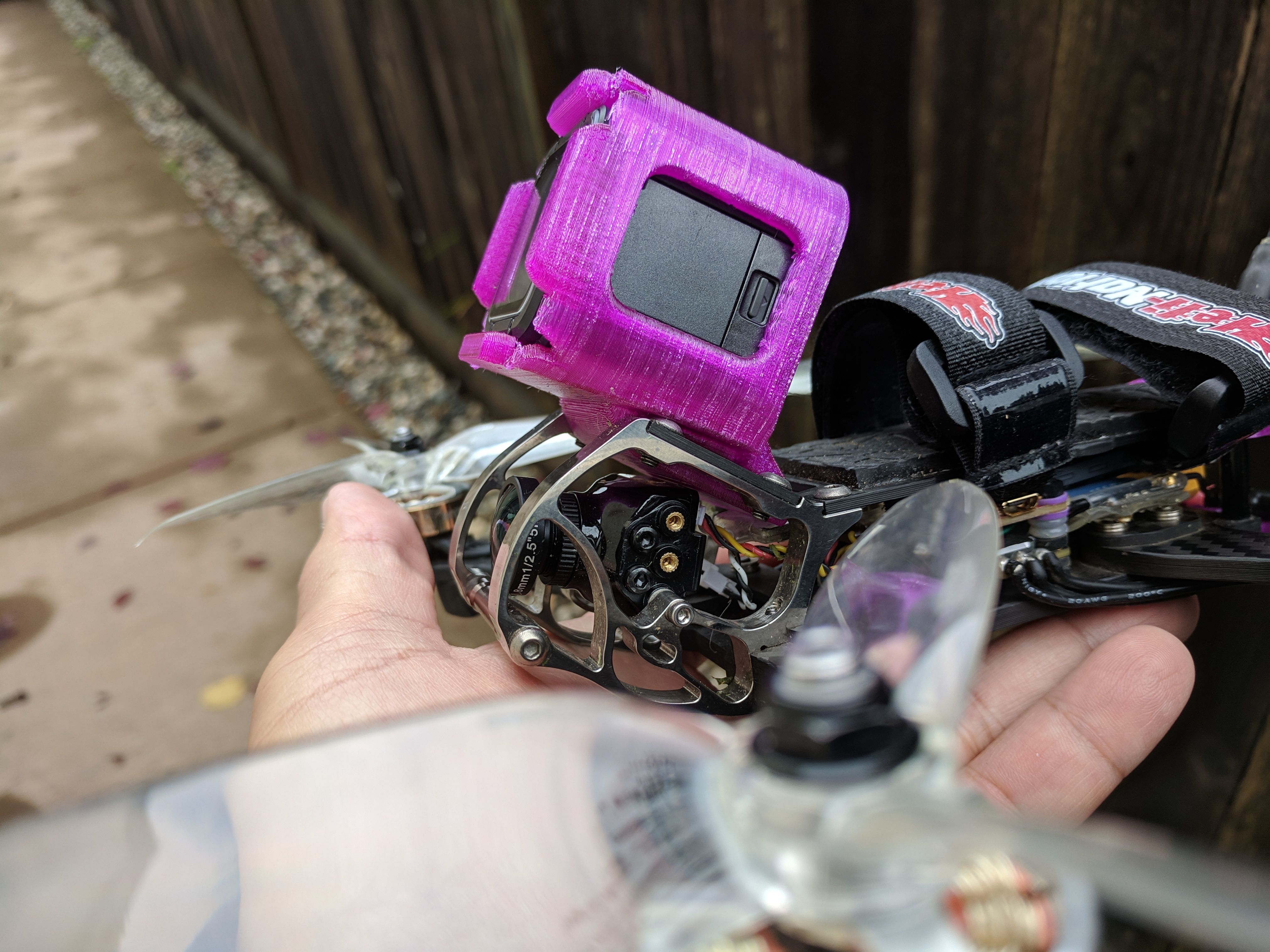 Take a look at the image and notice the FPV camera mounting holes. Orignially I used the center hole but it forced me to use a higher camera angle because the camera lens with rest of the crossbar on the cage so I can not lower the camera anymore. Now I raised the camera higher and it reduces my camera angle before resting on the crossbar.
In the past the FPV camera was about the same angle as the GoPro Session mount and I think that is about 35 Degrees.