A few people asked for a little more detail, so here it is:
Drag Race Configuration
First, The Truth
It was windy. Actual top speed was around 180mph which this same frame hit on calmer day (opposite direction average). Even though it had help, it was fun to get a max speed reading over 200mph!
The Dirty Baseline
If anybody knows me, they know I have not had the time to see what this frame is fully capable of. To begin, I wanted to get an "out of the box" speed run. The build was rather quick and dirty - not exactly a showpiece:
No modifications
No streamlining
The thicker 2.0mm arm version was used
Don't Rip Off My Camera
There were a couple things that did help reduce drag, but their effectiveness was most likely very small
Tape was used on the Caddx Turtle since I was worried that the passing air would "catch" onto the camera and pull it off
20awg magnet wire was used for the motor wires which were put into shrink wrap and attached to the bottom of the motor arms
Bumpy Ride
This was before I had the filtering set up right, so the ride was a bit bumpy - especially on 6S since I usually lower PIDs a little bit when using the 6S and APC 5260 prop combination.
Nothing Special
This is what I was hoping for: there is nothing special about this build, but it is fast and efficient; no nuclear battery and no afterburer on the motors.
The Future
Up next: The 1.5mm Version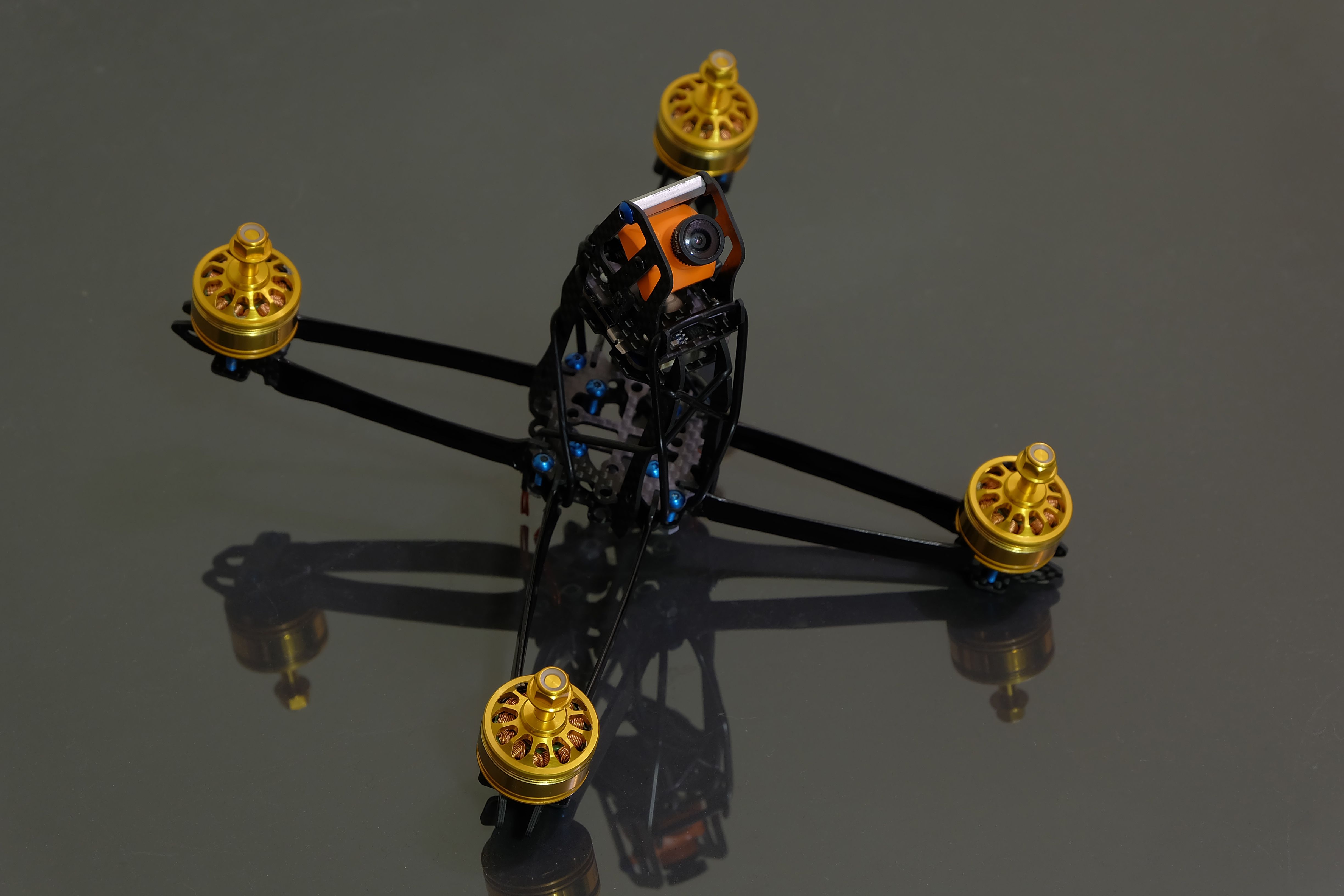 So up next is a 1.5mm build. The approach will be different here. To start, some relatively simple things will be done to streamline the arms:
Arm edges will be sanded and rounded off
Magnet wire will be used again
After the motor wires are secured, the arms will be covered in thin PVC shrink tube
At this point, I will do some speed runs to see the improvements. Then I will continue along with more modifications to continuously improve speed and see the impact of each modification.
The End Is Here... But There Will Be Others
DST is over and the cold weather is already here. I'll still try to fly when I can, but lipos hate the cold more than I do. There are a number of people that have this frame (in warmer climates) and are prepping their speed builds for a maiden. I can hardly wait to see the results, what they used, etc. I am probably more excited than they are!