Basically I could not resist Xmas discounts and bought KISS 32a ESC in from HobbyKing, SabotageRC Dingo and Foxeer ClearTx V2. I also had 2 spare iFlight-rc Tachyon 2207 motors laying around so I told my self what a heck and bought another two. For a while I was deciding whether to buy KISSv2 or just run it on my DYSF4ProV2 that was in my spares. As I already have KISSv2 in one of my other quads and I know how nice it feels to fly I decided to invest that money. But I also wanted OSD and I needed PDB so there the DYSF4v2Pro came back in play. I really like Foxeer Falkor so I wnet for it again and I use R9 system from FrSky so I put R9Slim in because it has separate RSSI out that goes to my DYSF4v2Pro.
I decided to conformal coat as much as I am able. So I took my time to protect the ESCs, KISSv2, DYSF4v2Pro and the Matek LED board. I think I still have to do the RX though. I also protected the capactitors on ESCs with epoxy as demostrated by Chad Novak in one of the RR videos about Reverb build. I also inteded to use 6s with this quad so I had to put 220uF 50V LowESR caps on each ESC.
With all that prepared I started to put all together starting with the frame. I must say that Dingo is well designed and I had no issue to build it. I have soldered power leads to PDB and I had to undo tha back part of Dingo to put them between the bottom plane and the sandwitch plate securing the back arms. Then I put the ESCs on the arms, measured the power leads to PDB and soldered them to it. I also soldered signal wires to ESCs at this time but left them waiting for KISS fc.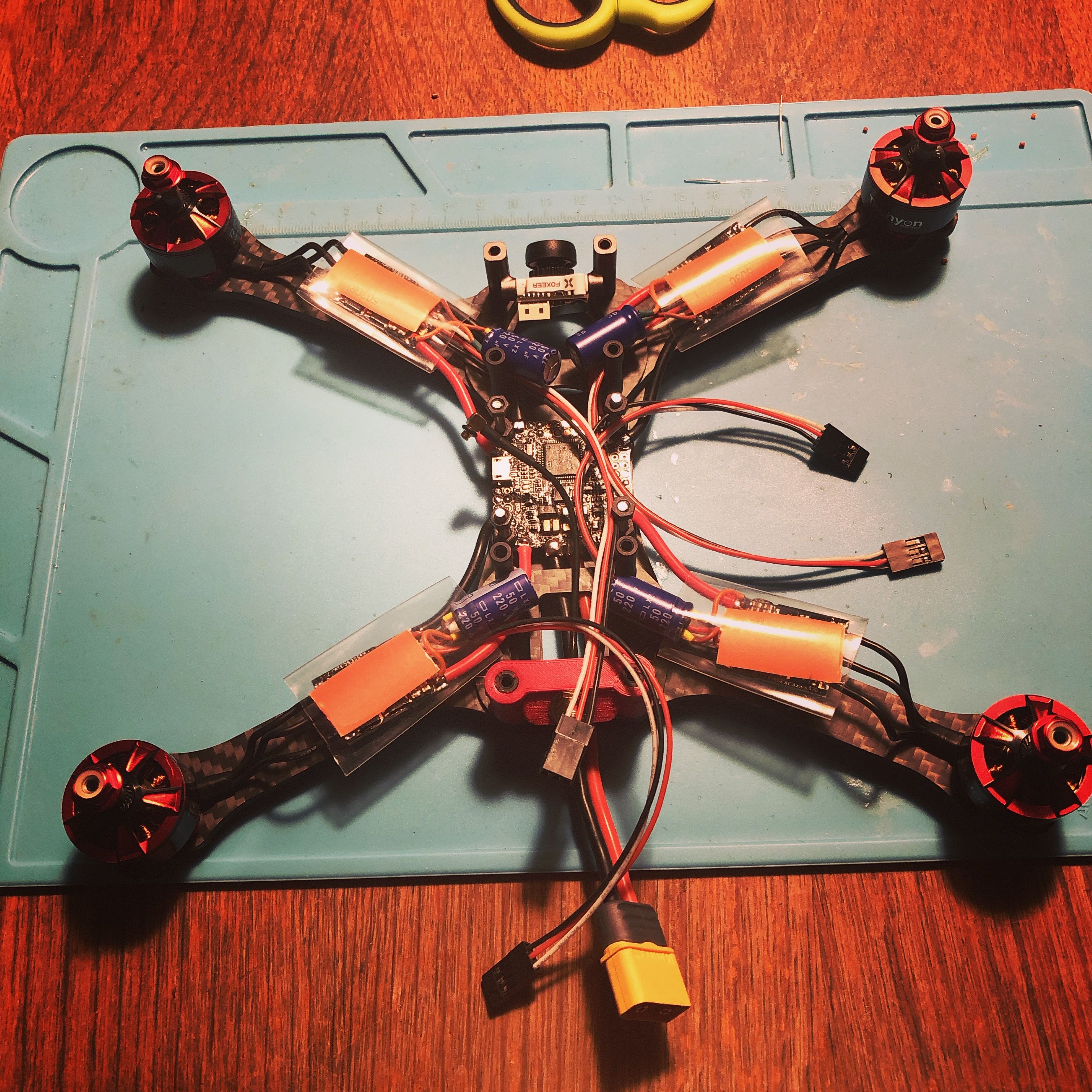 I continued with putting on motors, soldering them to ESCs and basically finish the work on arms. That meant to protect ESCs with heat shrink and piece of old prop on top, all wrapped in electrical tape.
Now I started to place FPV electronics and soldering it to PDB. I used the Falkor provided cable and interconnected it directly with ClearTX soldering only "video in/out" to pdb. The video signal wire length was not enough so I used just half from ClearTX cable and the other half leading to Falkor I had to find in my spares. ClearTX is using the slightly bigger JST SH connector version than Falkor. It was easier to find the Falkor version of this wire.
I am powering ClearTX from DYSF4ProV2 9V pads rather then from power leads because it is more convenient to solder to dedicated pads. Hopefully it will also help with filtering electrical noise.
With FPV done I placed KISSv2 FC on top and solderd all the signal and telemetry wires. Power is taken from PDB VCC pads. The R9Slim is placed in back in between the arms just below the VTX so the RX wires are going below the FC and are also soldered from thr bottom side. The only exeption is the S.Port wire. Additionally I hooked RX signal wire to DYSF4 so I can log signal inputs. I am not sure if that is the correct way. Have not tested it much, yet. I continued with Beeper and VTX signal wire that have to go on top.
Thanks to Dingo design I could place Matek LED board on top of all that and it pushes down the beepe cables so they are not in a way of battery strap. The LED cables are bit thicker and can handle bit of abuse from the strap. LEDs are only on back arms because there are only 2 long enough wires in the Matek package.
After all it was pretty pleasant build. I took my time doing one step at a time, thinking about plament and that payed off. The firts two flights with stock PIDs went exeptionally well. Only 6s might need bit of tunning. 5s was buttery smooth. I still have to test the RX signal hook to PDB. I am not 100% sure it is safe. The place behind the GoPro is not that big so I will only use my 1300mAh 5S Acehe or 1000mAh 6S CNHL. This is not a long range rig anyway. My Spectre build is probably more suitable for that purpose as it can fir 1800mAh 4S Acehe.
Cheers and happy flying!