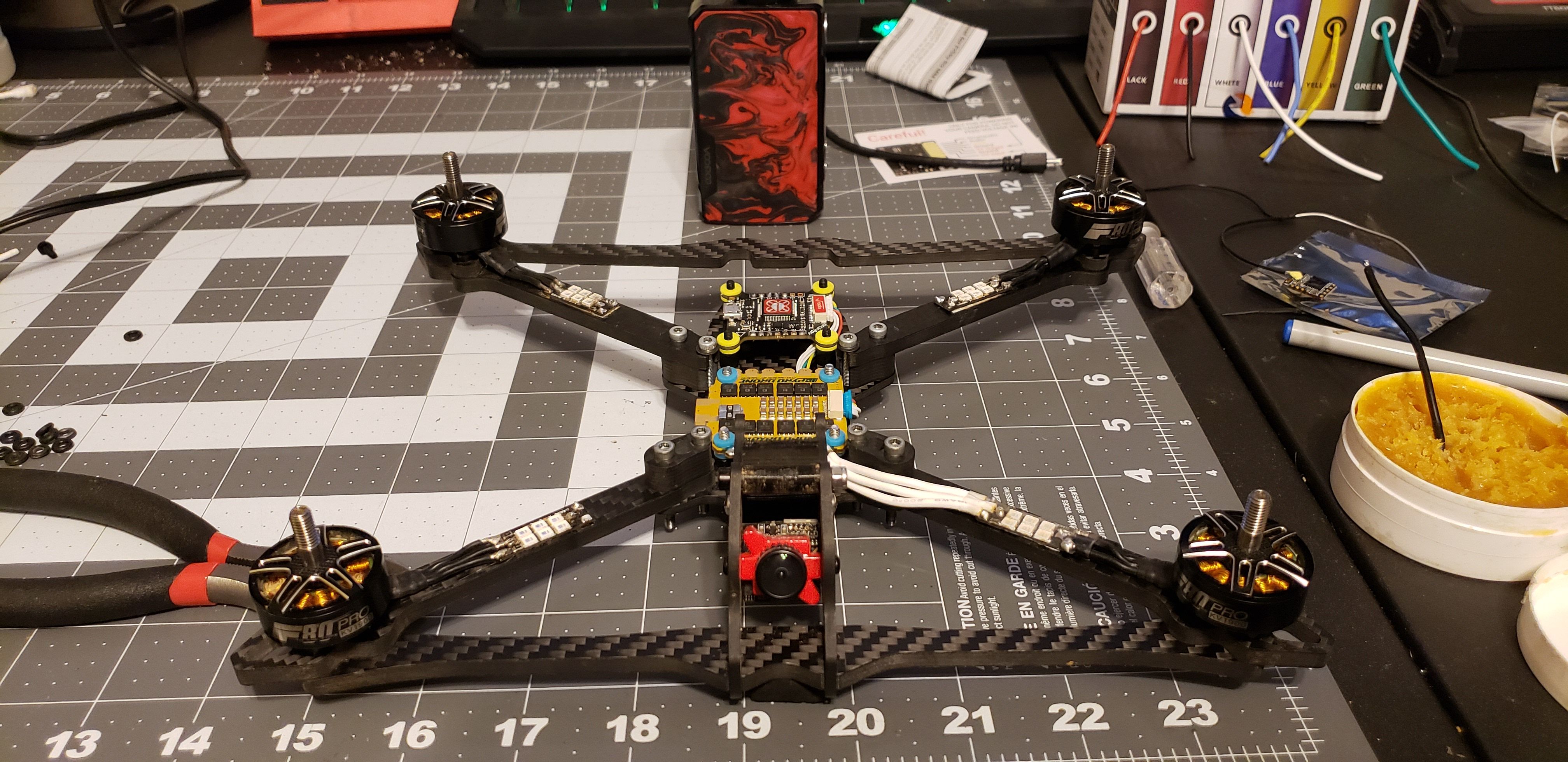 5/5/19 so after suffering a fried esc from a crash I am rebuilding again!!! woooo
3/15- all finished redoing build. went together much better, no where near as tight putting everything back under the deck. Now AUW is 742g.
I redid all the wiring, shortened wires, removed the 2 capacitors on the side of the frame and decided to just go with the pigtail capacitor setup due to the build not being that electrically noisy anyways. removed the 2 antenna tubes that were in the tpu front piece and went with 2 immortal t style dipoles mounted in the front and rear. removed all motor wires and redid them with red and black wire instead of sleeves, this made everything go together much better. dont get me wrong the wire sleeves look nice but they make space a little too tight for this build. overall this is one of the coolest and most challenging frames I've built and I'm impressed by catalyst machine works. the frame goes together very tight with no wiggle In any of the pieces, very balanced frame. it is also very obvious from flying and crashing the frame that it is extremely durable and welll though out in terms of impact areas. I would say if you have experience building quads to try this frame, PLAN OUT YOUR BUILD BEFORE YOU BUY COMPONENTS AND START ASSEMBLING.
**3/13- I decided I didnt like how I had the components layed out, so i am currently redoing the build, will update with pictures**
This is a smooth operator 6in. frame. I wanted to try my hand at building a super tight build. This frame is extremely well made and thought out. the build wasn't necessarily difficult but it was different compared to the usual way I've built multirotors...which is a good thing. Getting all the components to fit was a good challenge. I'm very happy with how it turned out, frame seems very tough and sturdy. Hopefully I will get to maiden it soon. I will post updates then....as welll as better pictures of it, the current ones are literally taken in the area I build them and as you can see has lots of parts laying around.
3/3/19- And so it begins...
3/4/19- all motors are wired to the esc via clracing red led racewire
3/4/19- test fitted all the rest of the pieces of the frame. just need to wire FC, RX, GPS, Camera, and buzzer.
3/6/2019- after figuring the best way to run all the wires, the only thing left is GPS and buzzer. then it's time to screw it all together!
3/7/2019- all finished. power up successful! AUW= 750g
motors are soft mounted using o-rings under the bolt heads and the motors are on red silicone pads cut to motor mount pattern. All screws are secured using loctite. Used this same process with my 10in. build and I have had phenomenal results. If you decide to soft mount the motors like this locktite is crucial.