Thanks to Dave_C_FPV for the great frame design from Thingiverse (https://www.thingiverse.com/thing:3792194), we liked it so much that we got it custom cut from 3.5mm carbon fiber. It was a tad heavier than we hoped but 12g is not too bad. There are a few important key factors that determine the frame we wanted:
1404 motors (4 bolt pattern and 14XX size motor protection)
TinyWhoop AIO boards with bottom facing USB port
After our initial testing with a RotorX 1404 3600kv motor we knew that we wanted to continue using a 1404 size motor, because they are very efficient and powerful. At the total extreme, you can get over 11 minutes of flight time with a 4s 520mah lipo. And if you freestyle you can get at least 4 minutes or more, but it all depends on how you fly.
Since I am planning to use a GEPRC AIO 12a board, I needed a frame that supported a bottom facing USB. Only recently, Nameless RC and BetaFPV came out with a TinyWhoop AIO board with a side USB port. With these new boards, I will not need to worry about finding a frame that works with the GEPRC AIO 12a board.
We start off by 3D printing the Microblivion II frame with various material and we were not too impressed with the strength of the frames in relations to the weight.
Stiffness (Firmest first)
Carbon Fiber PLA
PLA
Carbon Fiber Polycarbonate
PETG
Weight (Lightest first)
Carbon Fiber Polycarbonate @8.70g
PLA @10.75G
Carbon Fiber PLA @11.07g
PETG @ 11.11g
The 3D printed frames are 4mm thick and the custom cut Carbon Fiber frame is only 3.5mm. To our surprise the carbon fiber cut frame weighs the most at 11.72 (it's actually 12g but it lost a little bit of weight after I sanded the edges). And without a doubt the carbon fiber cut frame is significantly stiffer than any 3D printed frame. For 3D printed frames, being firm does not mean that it will be the most durable. Typical a PETG part would be a lot more durable than PLA. However, to much flex is not good for a quadcopter either. Overtime a 3D printed frame will most likely to fail, especially if you fly it hard and I am not a big fan of constantly rebuilding these tiny quads. So, I rather pay a few extra bucks and get a real carbon fiber frame. However, as Dave_C_FPV mention before the advantages of a 3D printed frame is the cost and its immediately available. Unless you happen to have a CNC machine at home, then that's a whole different story.
Special thanks to my buddy Erick ( https://rotorbuilds.com/profile/7846/ ) for finishing up my build. Here is what happen during my first go around with this build. I just completed all the settings on betaflight, tested the motors directions, and ETC. I did all the preparations with a 2s lipo and everything worked fine. But when I plugged in a 4s lipo for the maiden flight, it lit up like a light bulb.
Similar to my Flexrc Simple X 120, I was getting mid throttle oscillation. The strange thing about it is that it does not always happen. I made a few changes on Betaflight and the oscillation went away.
My current PIDs settings with Betaflight 4.0.2 are (mostly stock settings):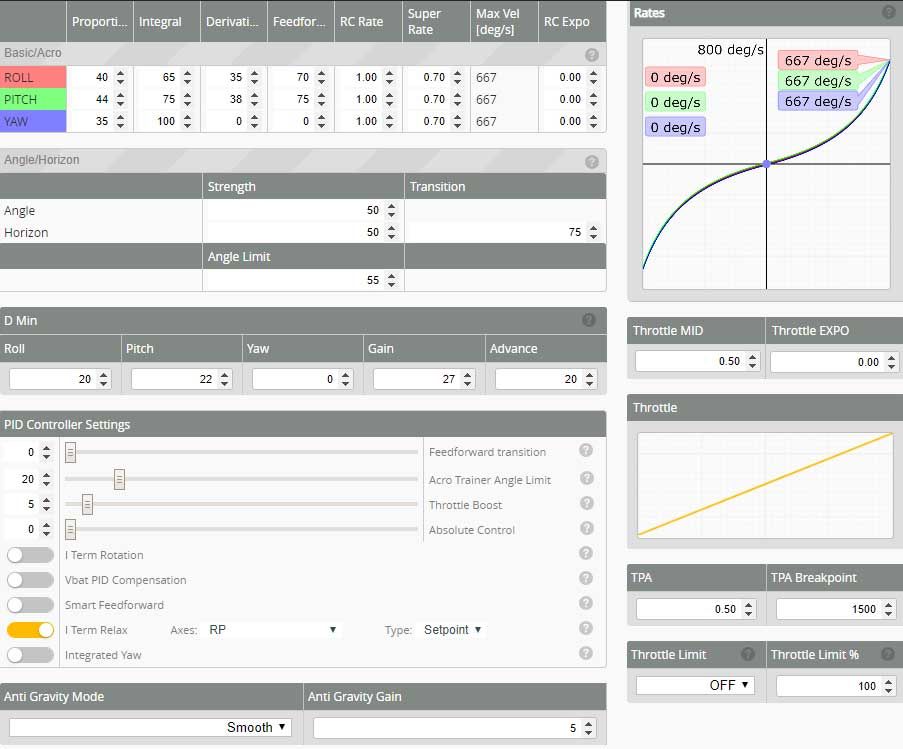 More info soon..... in the mean time here is the maiden flight video:
Runcam Split 3 Nano:

DVR