'Quasimodo' because it's kinda got a hunch-back and it's kinda ugly.
Unfortunately, it flies kinda ugly too. 
I think that's in large part to the under-powered (for this particular build) BetaFPV 1105 5000kV motors. Even though the Airblade EX Toothpick frame is super-light, sticking a Caddx Baby Turtle in there adds about an extra 8 grams versus the Caddx Baby Ratel. Doesn't sound like a lot but for these micros I guess it changes the power to weight ratio just enough to be noticeable when you're trying to do acro. As you can see from the video, the quad is also in need of a pid-tune which might help with some of the propwash and jello.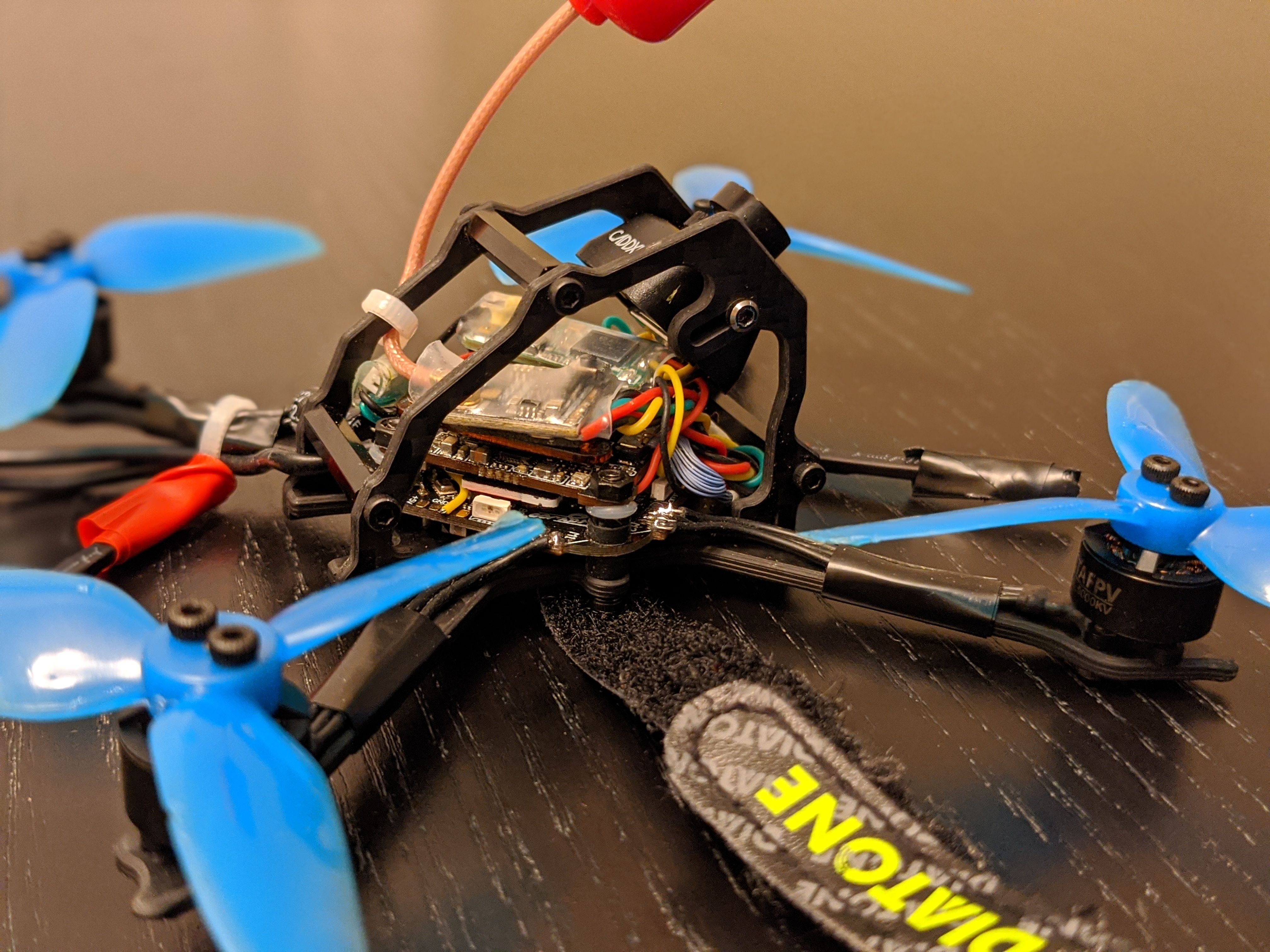 I tried flying it 4S instead of the 3S, both with tri-blade and then bi-blade props and....it was a disaster. Despite the extra power, the increased weight made it feel like I was flying a dump truck! 
It's not all bad though; 
As I mentioned, the frame is great - light (around 12g) but still really strong. It also supports 16x16, 20x20 and 26x26/whoop-style boards which is great. 
I used the FlyWoo GN413S AIO board which was easy to use and has 4 LEDs built-in which is neat. I used an XM+ for the receiver and the Eachine Nano VTX which I really like - it's small, thin, light (1.5g) and it's adjustable to 400mW output with decent image quality (though it does get very hot).
Despite my gripes about it's relative weight in this build, I do like the Caddx Baby Turtle. The DVR picture quality is really good though you do get some of that fish-eye distortion. My understanding is that with these single camera, split-style boards there is increased video latency. Unfortunately, I'm just not nearly as skilled or experienced a pilot to speak to that - for me I didn't notice a difference but again, I'm relatively new to this so don't take my word as gospel.  
I tend to prefer tri-blade props and I liked the HQ 3030 props on this one. I also tried a set of bi-blade props found they made the jello and propwash were worse.
(Note: It was SUPER windy the day I took the below videos which makes the jello and tune look even worse than it really is. I'm also blaming the wind on my sad attempt to power-loop under that tunnel-thing ;) )