Armattan Gecko 4 Inch (First build post)
Been immersed in the hobby since November 2019.
Always loved the the shape and style of Armattan quads.
Super awesome camera protections and yeah of course the Warranty process is nice too.
They recently partnered with Pyrodrone! So if you are in the states, the shipping time for warranty frames will be significantly better.
All frames and parts apart from the motors were purchased from RaceDayQuads. Awesome store with legendary customer service and quick fulfillment/shipping times.
About The Build
---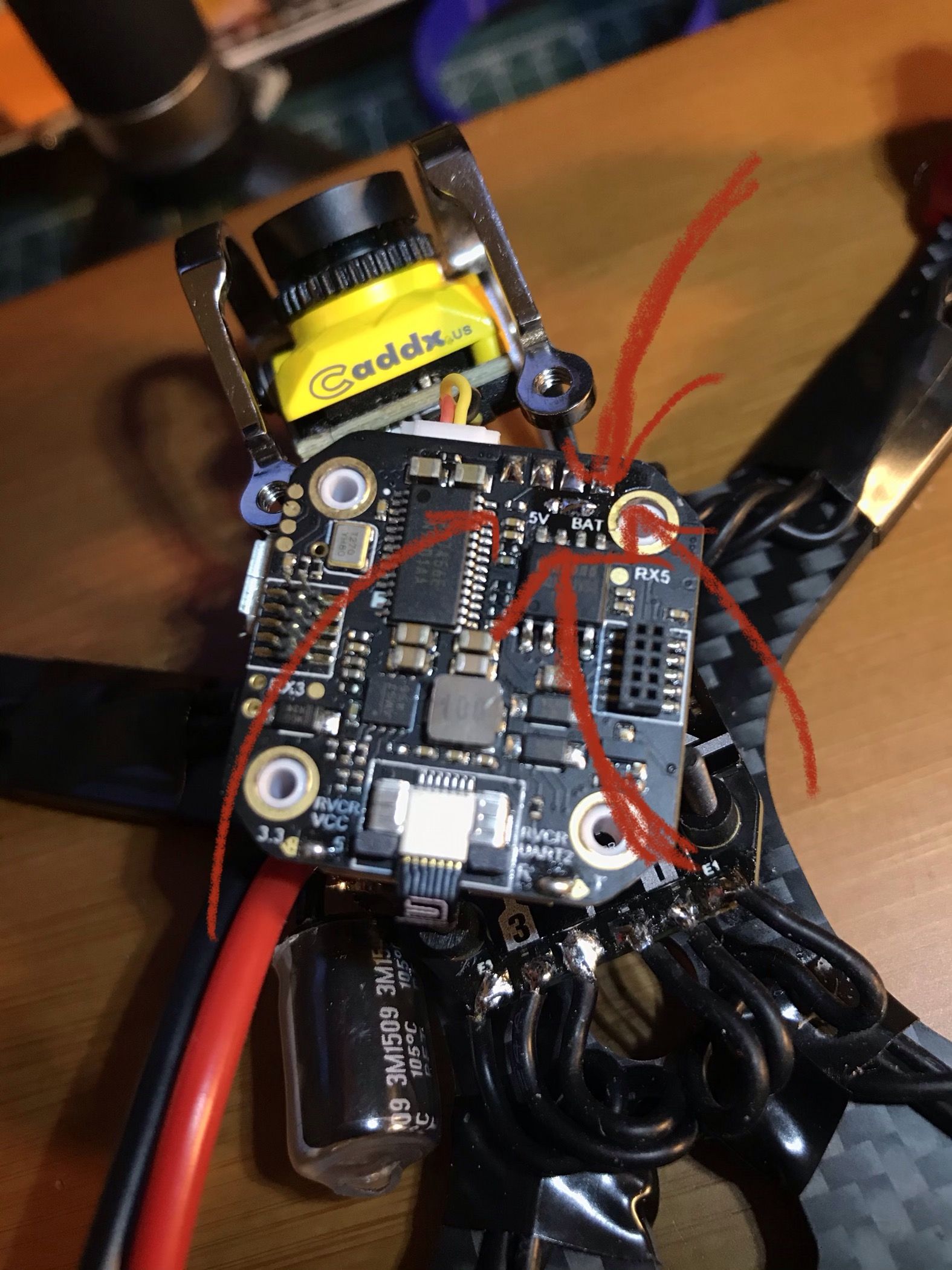 Purpose of build:
Quad strong enough to carry a GoPro session
Decent flight times
Relatively safe sounding (essentially people wont get freaked out)
Not aiming to be sub 250g but I suppose it would be possible.
Build difficulty:
Beginner to intermediate
The components that were chosen made the build super easy. If i knew it was going to be this little soldering I probably would be gone with a different stack. That being said, if soldering kind of freaks you out, the RushFPV Rushcore f7 stack may work for you.
There is something a bit different about this FC. If your VTX needs more than 5V (which in the case the Rush Mini Tank does) You will need to Solder the point over to BAT. The picture on the right will point to spot. Not sure if this has been fixed and they are shipping with correct configuration but its worth a second look.
Component selection:
Flight controller selection was the RushFPV Rushcore F7 Mini Stack. Honestly there was no preference, the part was chosen because it was the only one in stock. Also RushFPV seemed to be making a big splash so i though i would give it a shot. Honestly first FC board has some weird issue with the FC booting up super slow. It would take about 30 seconds for everything to boot up. Contacted RushFPV and they said ended up replacing it.
Motors: Tried the Xing 1507 motors which were super smooth with plenty of pop . The only issue i had was with durability. Eventually switched to the Tmotor F1507 2700KV. I don't think the motors are as smooth or powerful as the xings but still pretty decent.
Camera: Caddx Ratel micro FTW. Even with all the negative reviews of latency, it is still the best picture quality in an analog camera. The color looks freaking amazing and the field of view is good. I also set it up with a ND 16 filter. I went with the Caddx rather than the TurtleV2/Split 3 because my intention was to use a gopro session. I'm sure you can use a turtle v2/Split 3 instead of the session to save weight. You are looking at 14.2 g for Runcam Split 3 micro vs the gopro session 74 grams (what ever the weight of your session TPU)
Final thoughts
---
Build was relatively easy and very clean. The RushFPV Rushcore F7 Stacks makes it super easy because most of it is pins and plug in connectors.
Still working on getting the tune spot on but with RPM filtering enabled and with my final selection of props i'm diggin the flight feel.
I realize the pictures below are different iterations of the build. Final list is in the Parts list below.
Also prices were wildly different from time of purchase.
Motors were purchased from Aliexpress 4 x 54.99
Verified with Tmotors that they were real.
https://www.aliexpress.com/item/4000866239999.html?src=ibdm_d03p0558e02r02&sk=&aff_platform=&aff_trace_key=&af=&cv=&cn=&dp=
Caddx Ratel: $29.99
FC/VTX/ESC were purchased as a full stack from RDQ.
Also pyro has a sick deal on bulk purchase of props. (Also you don't need to purchase 10 or 20 of the same prop.. you can mix and match!
BULK PROP DISCOUNT
Minimum Selected Products Quantity Discount Discounted Price
10 20% $2.39
20 30% $2.09
Flight video:

Peace love,
Thesoobz619