After cutting my teeth building micros, I finally made a 'big boy' quad....and I can't help but feel I went about this entire hobby backwards because building a 5" is so much easier than building a 2.5" or 3" quad!!!
Having spent the first 6 or so months of this hobby getting finger cramps trying to cram 20x20 stacks into tiny frames or, even worse, straining like a constipated Gilbert Gottfried trying to see the ridiculously small solder pads of 16x16 boards, working with a 30x30 flight controller and ESC is a piece of cake! No more old man squinting for me (ok...there's still some squinting)!!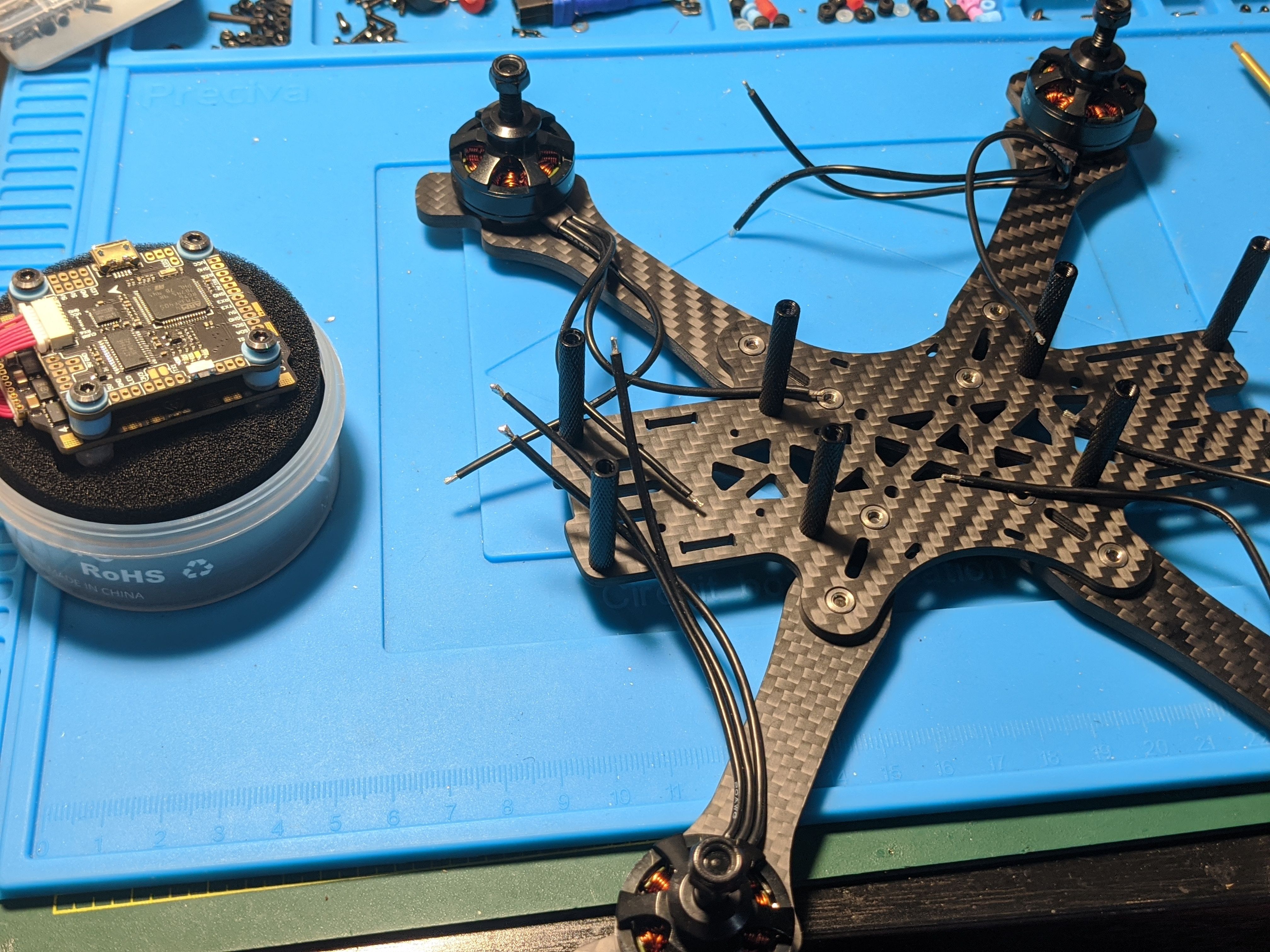 Likewise, shoving the rest of the components (VTX, reciever, etc.) into the frame was piss easy!
I went with the TBS Source ONE V3 frame because of the cost and the solid reviews. As I mentioned, it's also my first time building a 5" so I didn't want to go all out and get an expensive frame like an Armattan Duck-Billed Platypus (or whatever its called called).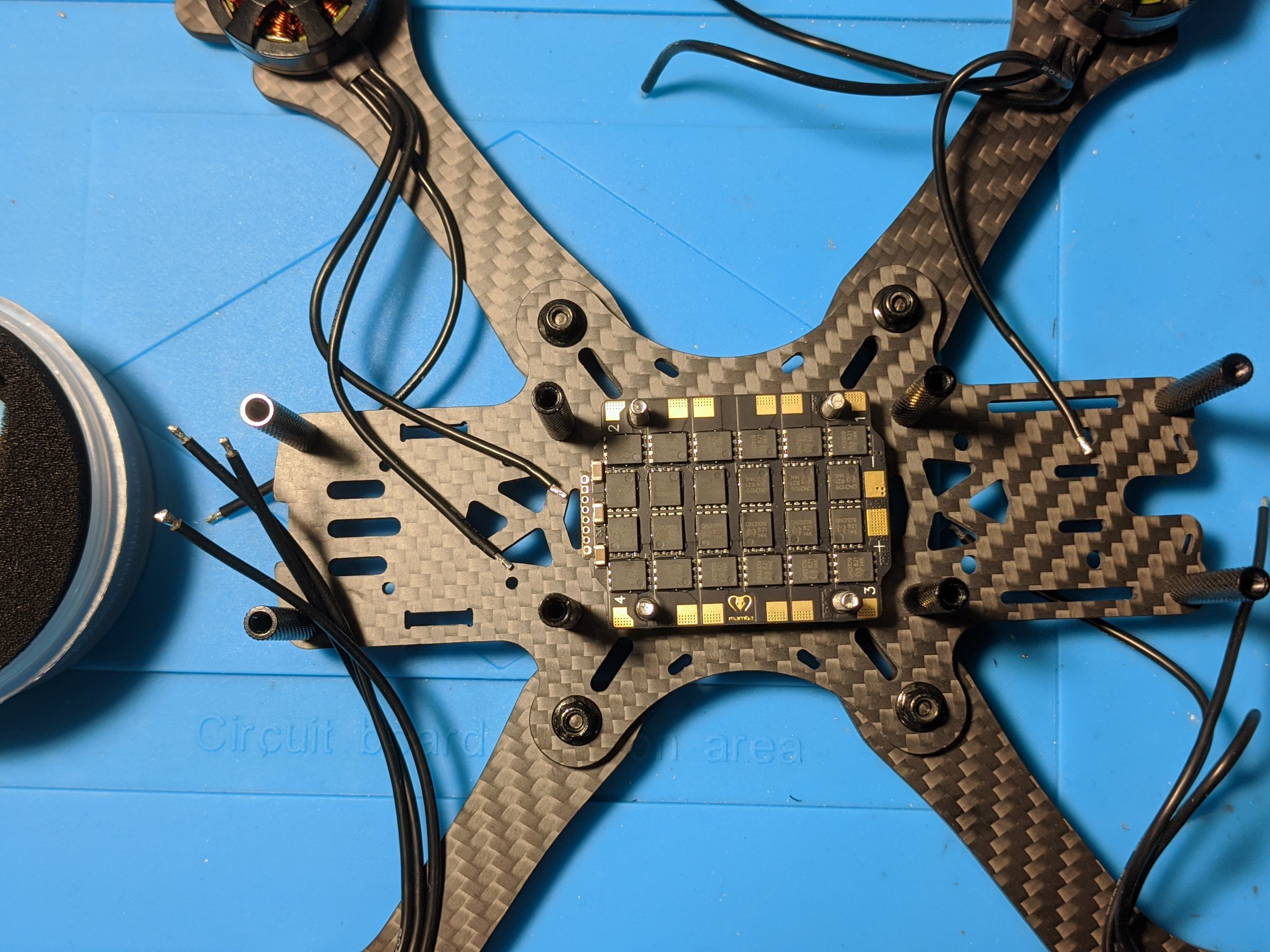 The Source One a great frame; seems really sturdy and, as I mentioned, lots of space inside.
For the FC and ESC I got the Diatone Mamba F405 with a 40A ESC. I've had, knock on wood, good luck with Diatone electronics and this has been no exception. Big solder pads (though not as big as the HGLRC Zeus AIO - those pads are massive) and easy to set up. This particular FC comes with Betaflight Version 3.5.7 installed and since it flies well and I have no desire to run 6S on these motors I haven't bothered to upgrade to Betaflight 4.2 yet (or even 4.0 with it's fancy RPM filters).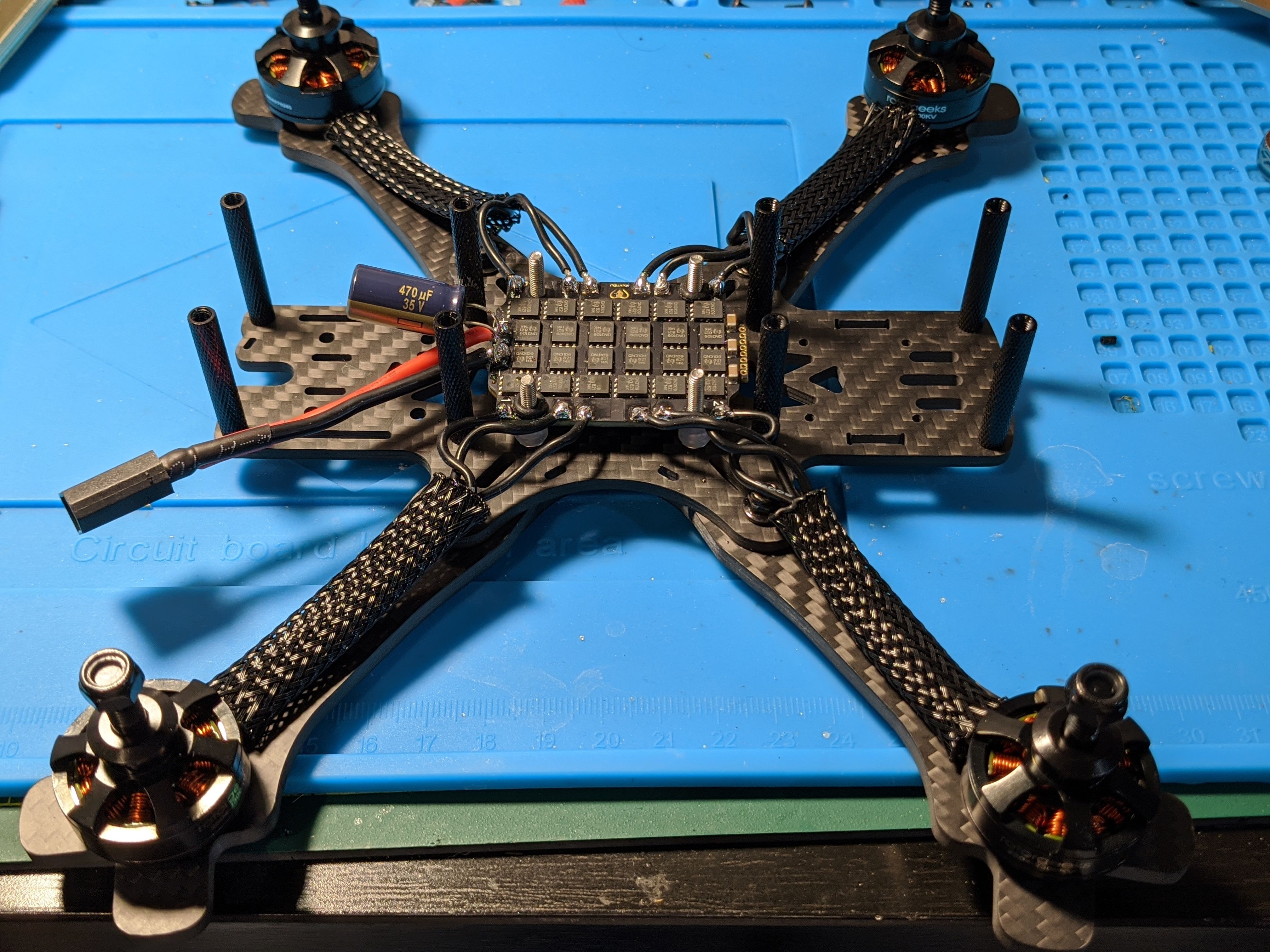 My understanding that for this size quad, most folks fly 2207 or 2306 motors but for my first 5" deliberately went a bit under-powered with 2204 2300kv motors from RotorGeeks. I feel like this approach worked for me - these motors still pack a decent punch (see the video) but I've also had the odd situation when I'm flying where I think "ok, it would be nice to have a bit more power here". I'll probably replace the motors for 2207/2306s once I'm more confident with my flying.
For the receiver I went with my trusty old Frsky XM+ (though I always have to upgrade the firmware).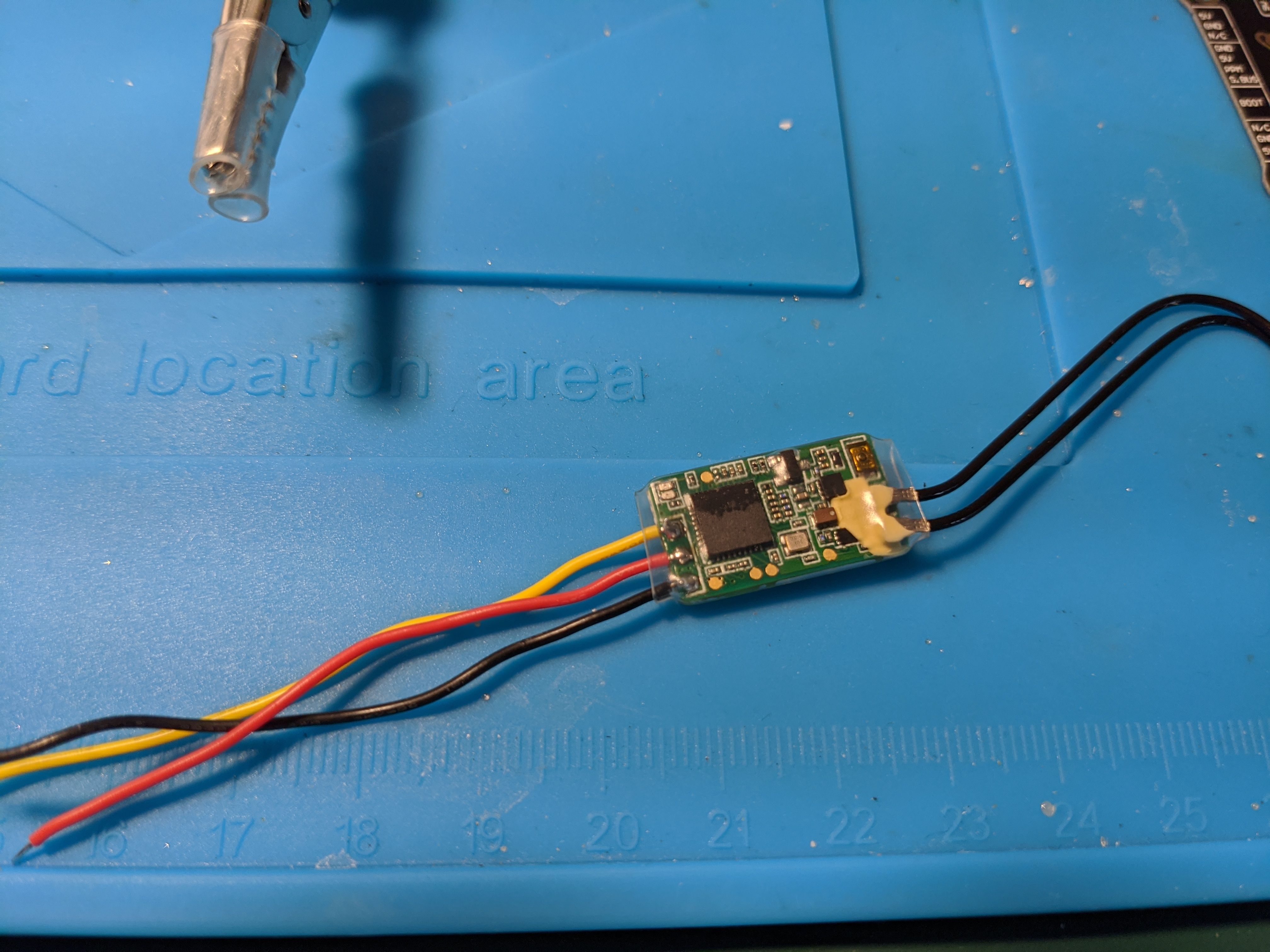 I really like Rush FPV video transmitters and this one originally had a Rush Tiny Tank but because I was awed by the space in the frame I upgraded it to a Rush Tank Mini which is completely overkill for me as I don't do long distance at all. That said, man the Tiny Tank is cool! It's really easy to set up and use and it's the first VTX I've used where both the LED indicators on the VTX and the button set-up make sense.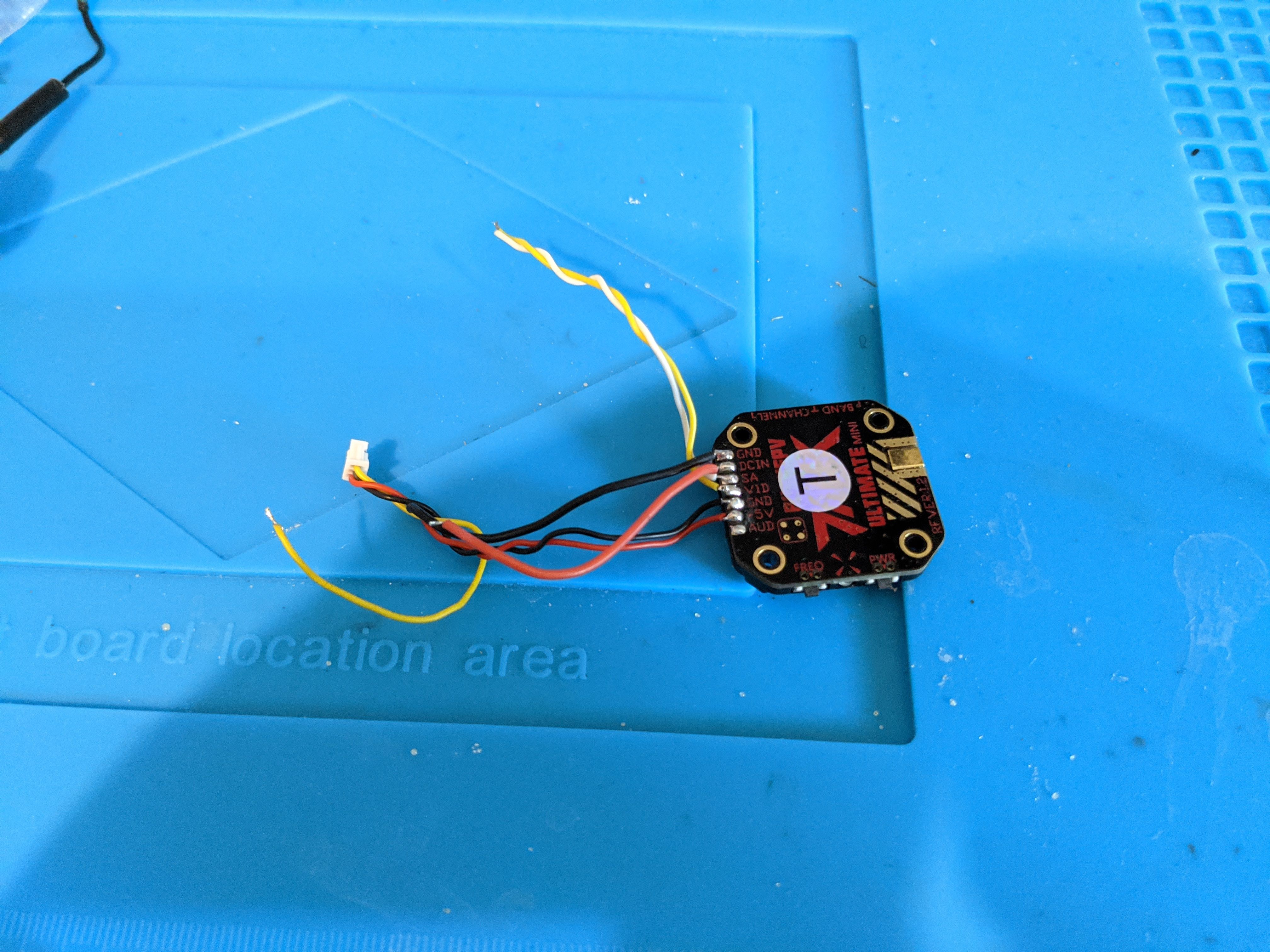 I like the image quality of Caddx cameras and went with a Ratel. As is always the case with FPV cameras, image quality is almost entirely subjective so go with whatever brand and model you prefer.
Finally, this was the first quad where I was able to try a variety of different tri-blade props. I tried;
HQ Prop ETHIX S3 5x3.1x3
Azure Power Johnny Freestyle 4.8x3.8x3
Gemfan WinDancer 5043
DAL Cyclone T5249C Pro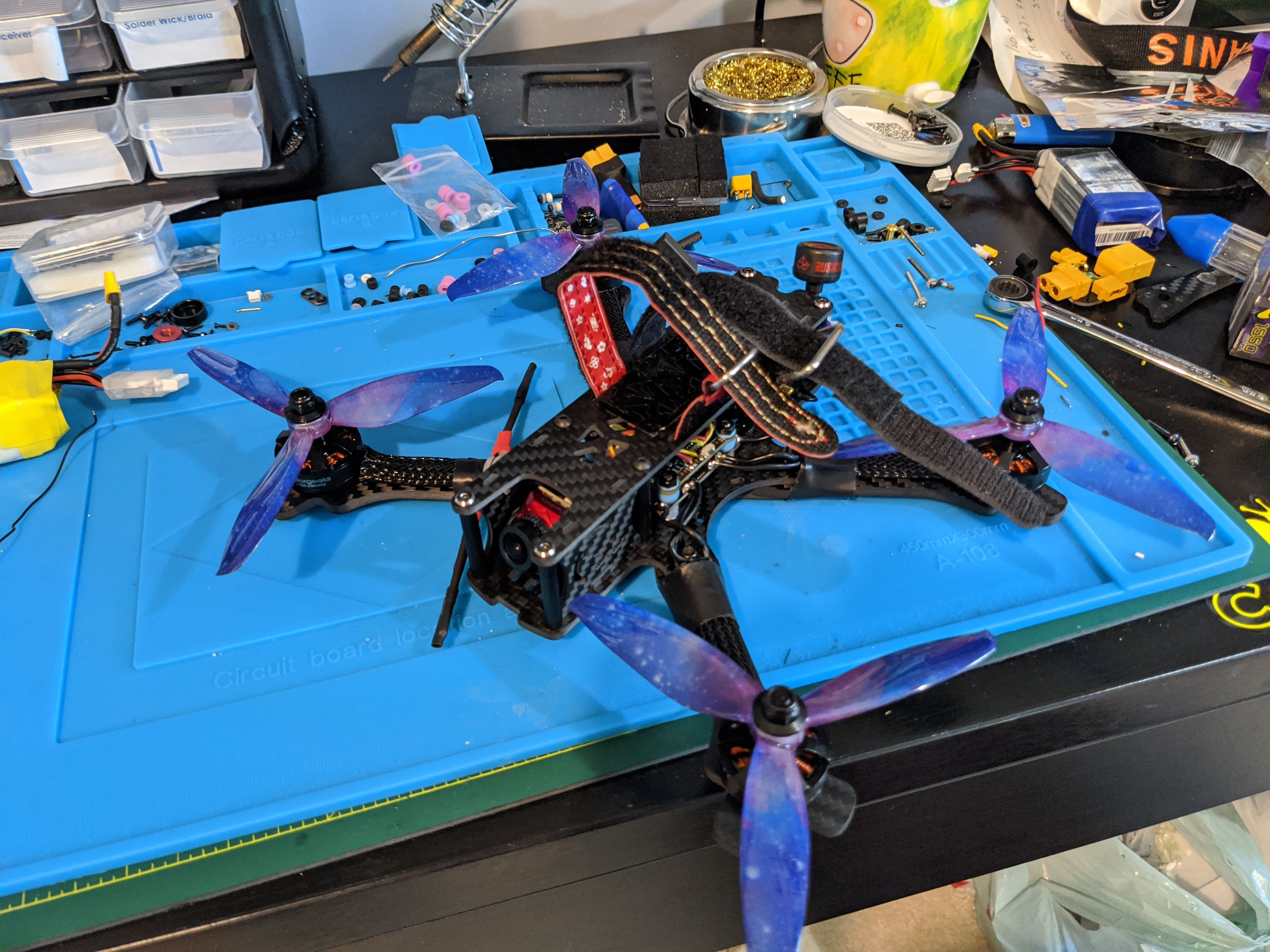 Ultimately, as much as I love how the GemFan WindDancer props looked with the Skitzo Galaxy pattern - see above (chef's kiss) - I felt the Azure props were my favourite - smooth (minimal jello), quiet and really responsive. Your millage may vary.
Overall, this was a fun, simple build that's also a lot of fun to fly!