Check out my GrabCAD page to print spare/replacement 3D printed parts.
La Mamba is a culmination of everything I have learned over the years about designing cinelifters, but with the added flavors and concepts from Le Pigeon. My goal with this frame is to be super universal when it comes to camera payload types yet maintain a compact and powerful platform that is capable of performing freestyle acro maneuvers with grace. The issue with my pervious cinelifter frame the "Banshee" was that the centered layout, although ideal for best acro performance and strength to weight ratio, had issues with easily adapting to multiple types of cameras and with getting props out of view. With my staggered arm layout of La Mamba, wide cameras like the BMPCC4K or FreeFly Wave sit above the props, but since the camera sits forward, props don't get into the FOV at low tilt angles.
The universal camera mounting plate is a big innovation on its own because not only does it fit any cinema camera with a 1/4-20 screw thread, it is adjustable! The 5 locking positions allow front to back center of gravity adjustment easily on the fly without tools. This is an important workflow feature on set when pressure is high. The quick release battery system uses the same adjustable quick release system in order to afford further C.O.G. adjustment and fast swapping of flight packs.
This thing is light too! The other drone frames in the 9" X8 class are much too heavy in my opinion and I think cinelifters fly better when they are leaned up instead of relying on oversize motors and battery setups to pull their way through the air. Here are some other drone frames in this size range with similar features weighed on the scale. Now compare that to the 1555g of La Mamba when fully built:


DESIGN OVERVIEW

MOTORS
After feedback from several customers I have a small list of recommended motors and their applications. This assumes 9" props and 6S voltage. If using higher voltage, match the theoretical RPM. For example, a 6S setups with 3215 1050kV motors is 23,310RPM = 3.7V x 6 cells x 1050kV, so a suitable 12S setup could be 3215 525kV, but since the closest kV for Xnova 3215 motors is 430kV you would have a slower, more torquey power train with 19,092RPM.
2812 900kV: Best for lighter weight setups with only Komodo, FX6, etc and no gimbal and will provide better control-feel at the lower throttle range allowing for higher confidence in tight situations and getting closer to the subject safely.
2812 1100kV: (BEST CHOICE OVERALL) Same as 900kV, but has more acceleration and power providing better confidence when doing high throttle manuevers like pulling out of dives, acro, and high speed chasing
3215 1050kV: Suitable for heavier payloads such as running a DJI RS3 gimbal plus camera and HDMI transmitter.
PROPS
I have tested the HQProp MQ 9x4x3, Master Airsrew 9x4.5x3, and Gemfan 9045 props with La Mamba using both 2812 900kV motors. My favorite are the Gemfan 9045 carbon nylon props. Worst are the HQProp MQ 9x4x3 because they are underpowered and not super efficient to make up for it. Even with 2816 1050kV motors these props lack energy. In the middle are the MAS 9x4.5x3 with plenty of punch on the low end. I have not tested HQProp 9x5x3 with 2816 1050kV motors but I bet that would be a great combo as the old HQ 9" props are great. HQ also has a new 9x4.5x3 out that I have not tested yet.

PID TUNING
Be sure when tuning that you start off without any payload at all. The reason is that when the drone is unladen, the props spin at a much lower RPM and if your filter cutoffs are too high of frequency, the motor vibration can create a feedback loop and cause a fly away. It is best practice to tune your cinelifter in such a way that it still flies okay even without a camera payload. This is why the RPM filter is so low with a cutoff at 75Hz. Use these settings below as a guidepost for your tune. These settings are with 6S battery voltage, 2812 900kV, motors, and Gemfan 9045 props. Use these settings with caution as you are solely responsible for the outcome.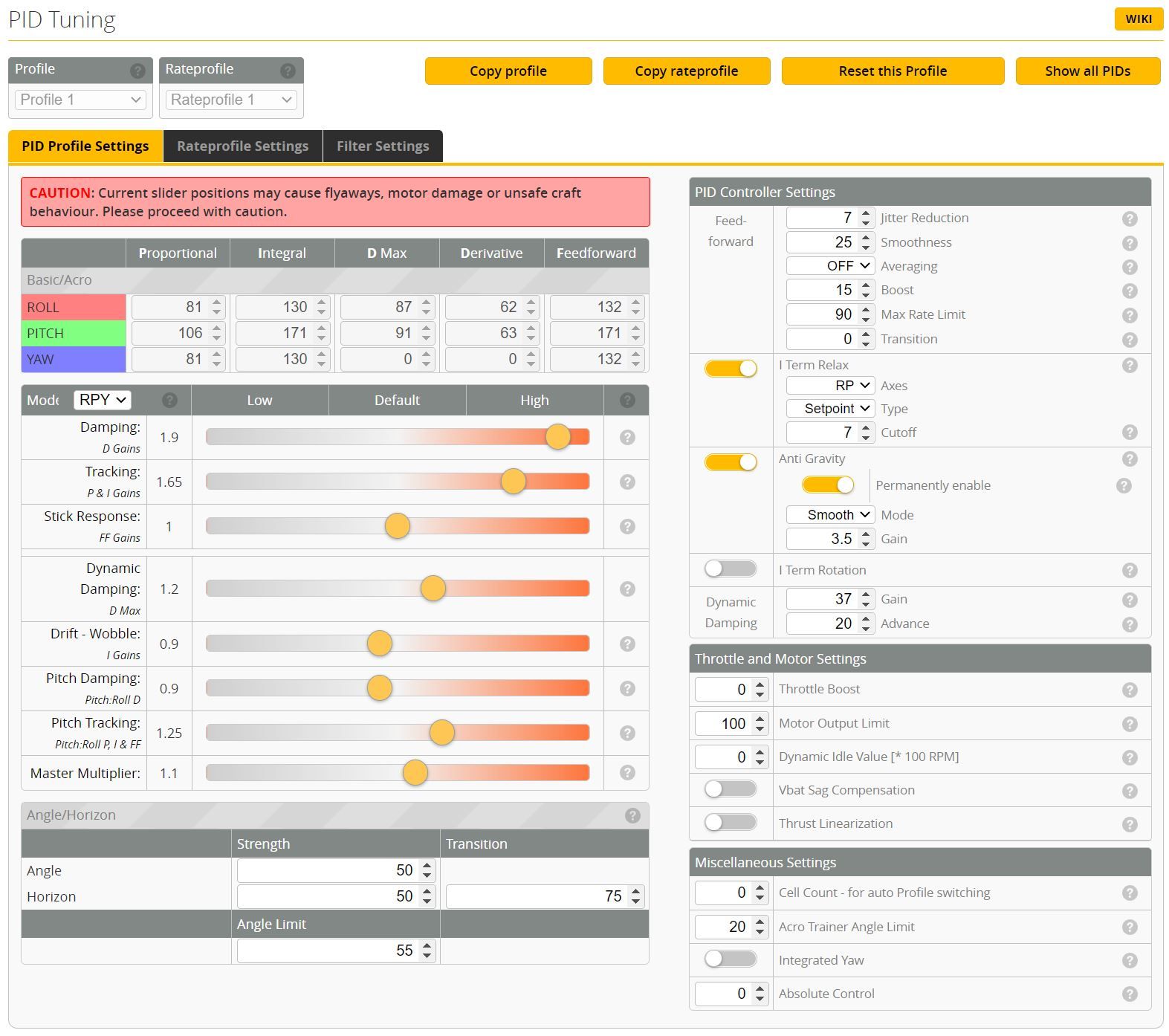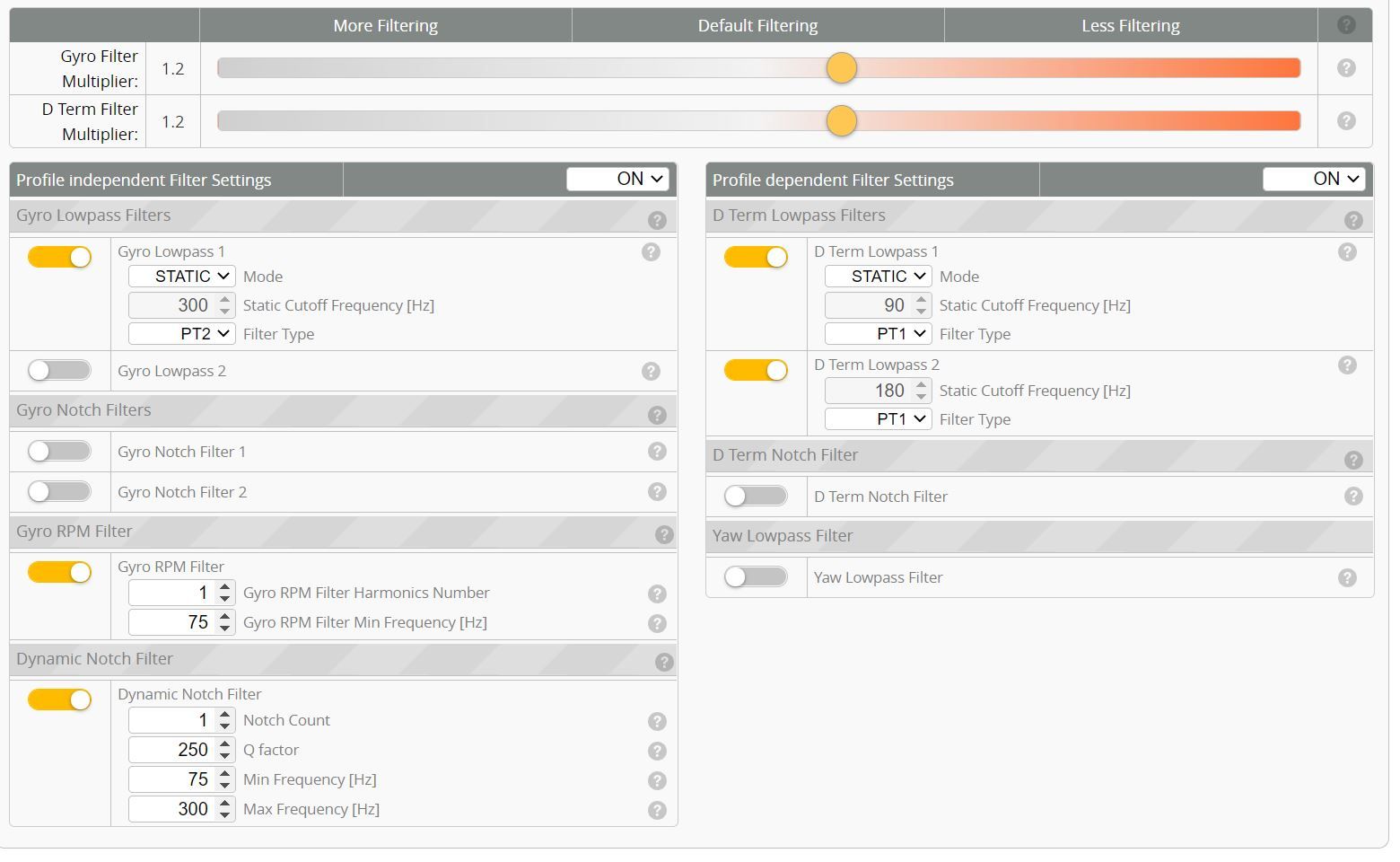 FRAME ASSEMBLY

BUILD OVERVIEW

FLIGHT FOOTAGE