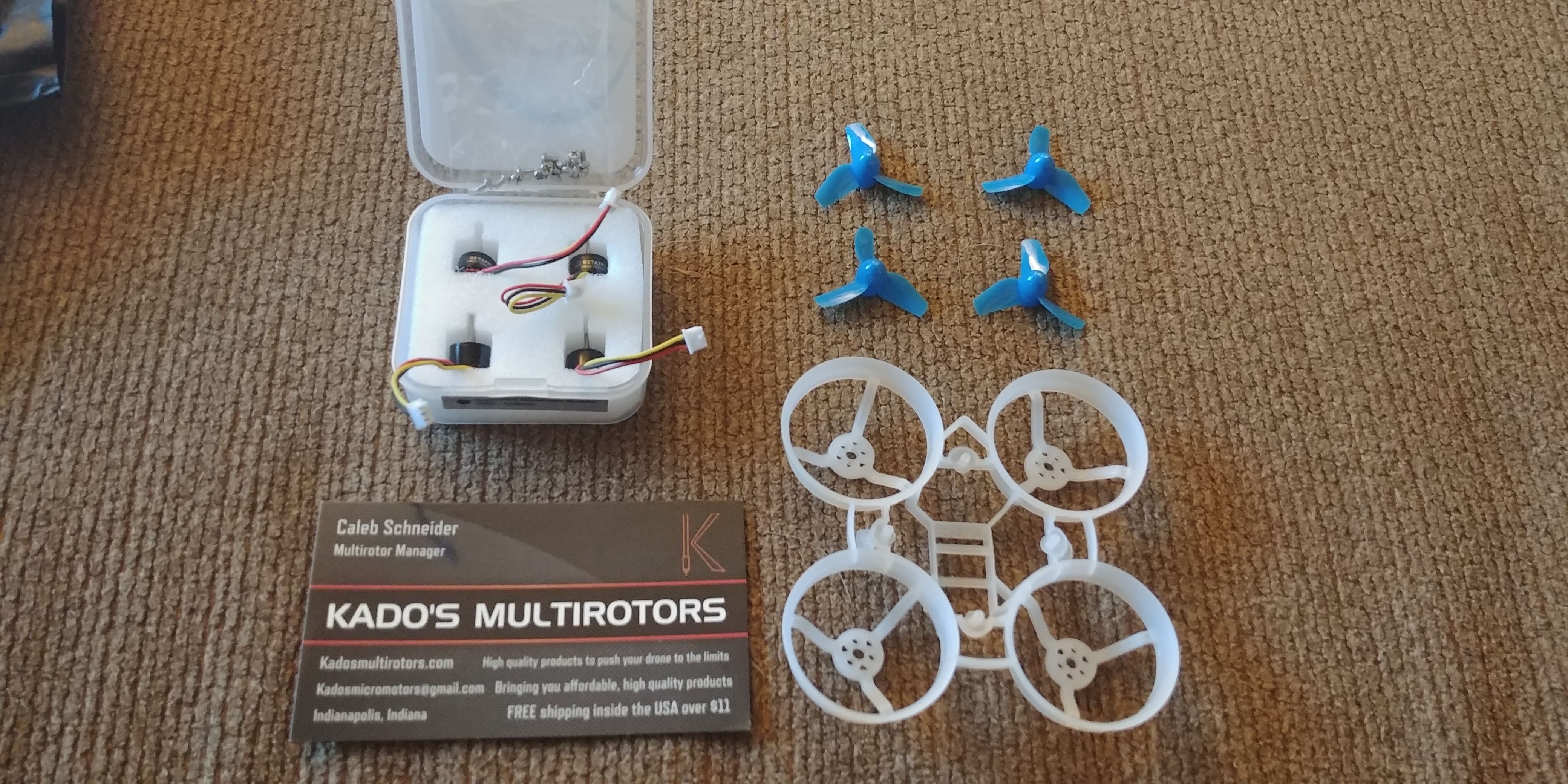 I'm collecting parts to make the perfect brushless whoop.
I plan to use BetaFPV 0603 motors when they become available from Kados.
03/27/18 - KADOS' BETAFPV order is now IN! GO GO GO BUY BUY BUY! I ordered my frame, motors, props, and canopy today.
04/02/18 - I soldered in my motor connectors, 2.0 Battery Pigtail, and added an RX2A Pro. The RX pads from left to right UART Signal, 5v, Gnd. The FC/RX power up just fine. I need to get an aio cam. One odd thing about this FC and frame is where it sits. The FC will lay all the way at the base of the standoffs so there's no actual way to hold it down. I plan to use the rubber gummies I didn't use on other builds to pin it against the frame. Then a clear canopy from Kados to hold the cam.
Binding the radio
Turn on the radio. The LED on the radio will turn green to indicate that the radio is on.
While holding down the BIND button on the quadcopter, plug it in. A red LED or the shark's heart will blink rhythmically. This means that the aircraft is in binding mode.
Ensuring that the radio is already on, hold down the power button for 10-15 seconds until the green LED starts to blink quickly. That puts the radio in binding mode.
With both units in binding mode, the systems should automatically pair within seconds. The heartbeat of the shark will change pattern to reflect this, but be advised: it may happen quickly.
No other indication will show that the radio and quadcopter are bound. To test the bind, power off the entire system then turn everything back on. At this point, try testing the ARM switch on the top right corner of the radio to check to see if the switches are configured. Flip the arm switch a few times to see if the quadcopter blades power up. If the propellers don't spin up, move onto the switch configuration section.